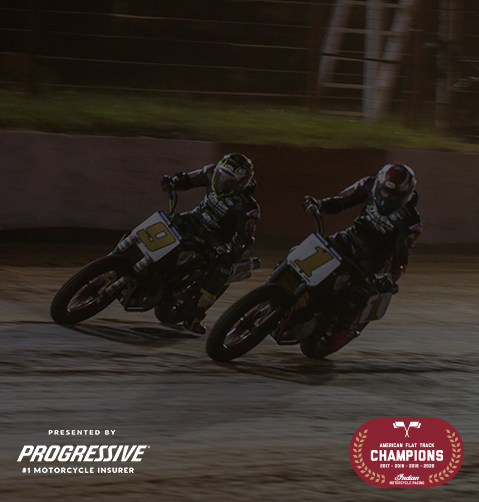 INTRODUCING THE NEW eFTR Jr
Young riders can enjoy the Flat Track racing experience on the NEW eFTR Jr Designed for riders ages 8+ (in low power mode) and up to 175 pounds, the eFTR Jr is powered by an electric motor with rechargeable battery. Designed for off-road use only.
INDIAN MOTORCYCLE ENTERS AMA HILL CLIMB CIRCUIT
After more than 80 years away from the sport, Indian Motorcycle has returned to Hillclimb. S&S Cycle and racer John Koester have partnered with Indian Motorcycle to build a custom, one-off FTR 750 Hillclimb motorcycle.
THE FTR750 DOMINATES THE FLAT TRACK
For generations, Indian® Motorcycle dominated the world of motorcycle racing and continues to do so. The FTR750 is a proven powerhouse bike carrying the world's best racers.
THE INDIAN® SCOUT® FTR750
- RACING IN ITS DNA
The new Indian Scout FTR750 was purpose-built to revolutionize Flat Track racing. The 750cc engine pushes the limits of V-Twin technology and our clean sheet design philosophy ensures none of that power is wasted.
INDIAN WRECKING CREW
For generations, Indian Motorcycle went hand-in-hand with racing - and winning. Meet the new 2019 Indian Motorcycle Wrecking Crew, looking to continue the back-to-back championship winning ways.
Five time winner of the AMA Pro Flat Track Grand National title
A LEGACY OF WINNING
Indian Motorcycle has a storied history on the Flat Track. The original Indian Motorcycle Wrecking Crew of the 1940s and '50s—Ernie Beckman, Bill Tuman and Bobby Hill—are icons of the sport. The famed rivaly between Indian and Harley-Davidson® is the stuff legends are made of.

We're back to rekindle the fire that, for years, defined the sport of Flat Track racing. With a revolutionary new bike and a revamped Indian Motorcycle Wrecking Crew, we're here to challenge the world's top manufacturers and reclaim our place atop the Flat Track racing world.