For generations, Indian Motorcycle went hand-in-hand with racing--and winning. America's first motorcycle brand dominated the 2017, 2018 and 2019 seasons. Now it's back with 3 of the world's best riders. Meet the Wrecking Crew for 2020.
Jared "Jammer" Mees, #1
5 Time Flat Track Grand National Champion, including back-to-back championships in 2017 and 2018. 2016 X Games gold medalist.
Briar Bauman, #14
2019 champion following up a third place finish in 2018
Bronson Bauman, #37
Third place finish for the 2019 season, including first race win.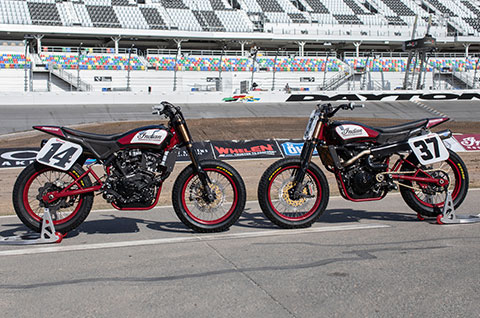 THE FTR750 DOMINATES THE TRACK
Following two of the most dominant seasons in flat track history, American Flat Track privateers are turning to Indian Motorcycle Racing's Championship winning Scout FTR 750 for 2019.

Henry Wiles, #17
Rob Pearson, #27
Brandon Robinson, #44
Jeffrey Carver Jr., #23
Larry Pegram, #72
Brandon Price, #192
James Monaco, #22
Jay Maloney, #12
Davis Fisher, #67
Patrick Jacobsen, #199



Brad "The Bullet" Baker Returns
Brad "The Bullet" Baker returns as a technical advisor and rider coach for new Wrecking Crew members Briar and Bronson Bauman.