Filter your results by vehicle
See if it fits your vehicle This fits your This does not fit your
No Records Found for Search

Thunderstroke Stage 1 Oval Slip-on Muffler Kit & Thunderstroke Stage 1 Performance Air Intake
Go behind the scenes in The Garage at the Indian Motorcycle Product Development Center and take a detailed look at the Thunderstroke Stage 1 Oval Slip-on Muffler Kit & Thunderstroke Stage 1 Performance Air Intake.
Description

This Stage 1 Oval Slip-On Muffler Kit combines innovative construction techniques with advanced engineering to infuse your bike with custom style and deliver a powerful, throaty exhaust note. The body of the muffler is hydro-formed into a complex geometry that gives your muffler a unique, appealing look. The muffler tip is cast into a distinctive oval shape that's used exclusively on this muffler. There are also Indian Motorcycle script logos on the mufflers. The muscular exhaust is tuned to amplify and maximize the low, deep rumble of the exhaust note. The rich sound and distinct style make this a one-of-a-kind, must-have muffler kit.
Overview & Specs

Innovative construction and engineering boosts your bike's performance and gives it a rich, deep exhaust note
Improves your bike's horsepower and torque output and delivers quicker throttle response (Thunderstroke models only)
Exhaust body is hydro-formed into complex geometry with a unique, appealing, custom look
Exhaust tip is cast into distinctive shape used exclusively on this exhaust
Exhaust is tuned to amplify and maximize exhaust note's low, deep rumble
Indian Motorcycle script logos on the mufflers

| | |
| --- | --- |
| Care And Cleaning | Please see your Indian Motorcycle Rider's Manual for specific cleaning and maintenance instructions. |
| Warranty | Warranty Information |
What's Included

Right Hand and Left Hand Slip on Mufflers, Installation Instructions, and Calibration Card
Designed to Fit

IND

2021 Vintage Dark Horse
2021 Roadmaster Limited
2020-2021 Roadmaster Dark Horse
2020-2021 Indian Vintage
2020-2021 Challenger Limited
2020-2021 Challenger Dark Horse
2020-2021 Challenger
2020, 2017-2018 Chieftain Elite
2020 Indian Chief Dark Horse
2018-2021 Springfield Dark Horse
2018-2020 Roadmaster Elite
2018-2020 Chieftain Classic
2018 Chief
2017-2021 Chieftain Limited
2017-2018 Roadmaster Classic
2016-2021 Springfield
2016-2021 Chieftain Dark Horse
2016-2019 Chief Dark Horse
2015-2021 Roadmaster
2014-2021 Chieftain
2014-2019 Chief Vintage
2014-2018 Chief Classic
Stage 1 Oval Slip-On Muffler Kit, Chrome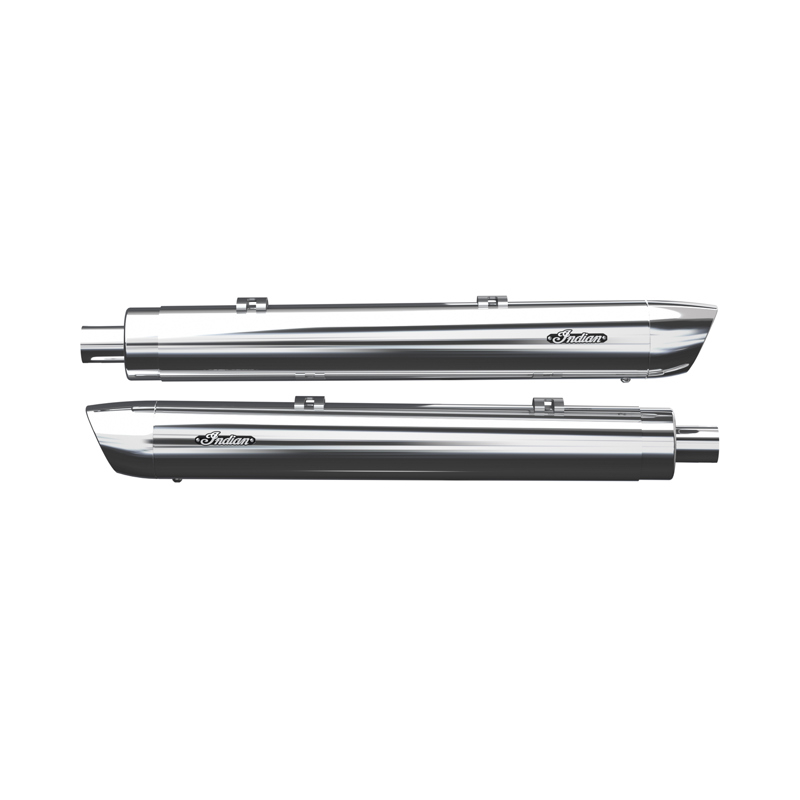 Stage 1 Oval Slip-On Muffler Kit, Matte Black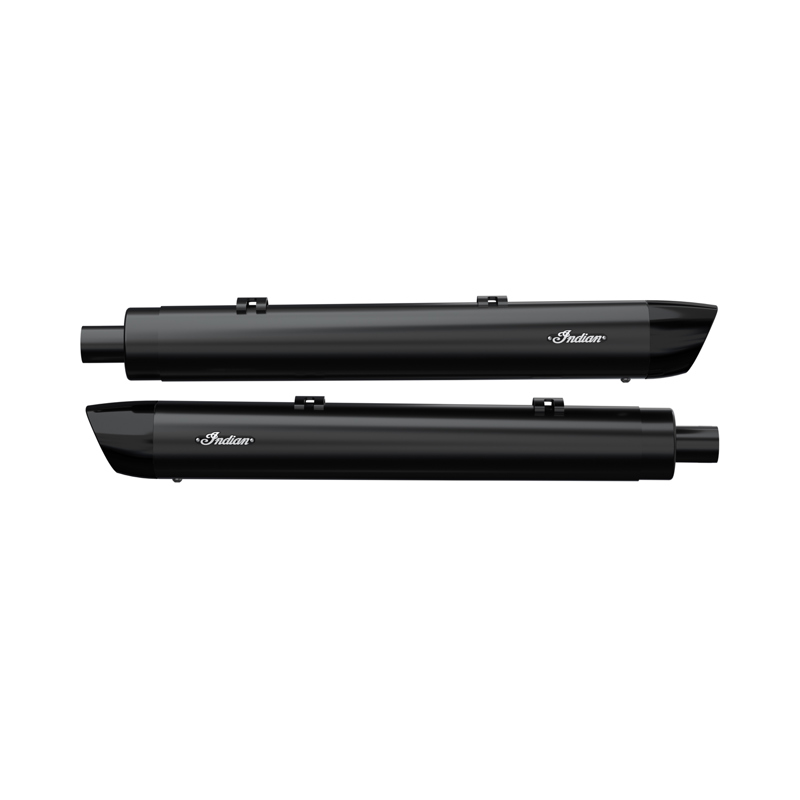 Recently Viewed
Loading...