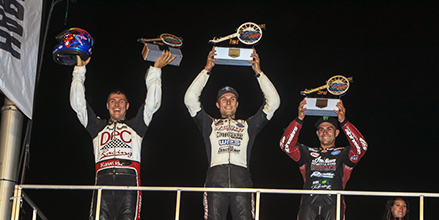 Indian Motorcycle's Scout FTR750 Sweeps Podium at Williams Grove Half-Mile
Indian Motorcycle Privateers Briar & Bronson Bauman Place 1-2, Wrecking Crew Rider & 2018 AFT Champion Jared Mees Takes 3rd
MECHANICSBURG, Penn (SEPTEMBER 10, 2018) – Indian Motorcycle Racing continued its American Flat Track dominance as Indian privateer Briar Bauman, aboard his Scout FTR750, secured his first win of the 2018 season. Piloting a factory Indian Motorcycle, at Brad Baker's request, Bronson Bauman placed second and secured the first Twins podium of his career. Indian Wrecking Crew rider and 2018 Grand National Champion Jared Mees rounded out the podium with a third-place finish.
In a main event that featured bar-to-bar action and multiple lead changes, it was Indian privateer Briar Bauman who spent most of the race locked in a battle with Mees, before ultimately pulling away. Briar's brother, Bronson, also managed to push his way up to the back tire of Mees and ultimately made a pass with few laps remaining. It was his first career AFT Twins podium.
"The Bauman brothers ran a great race and put on a really good show. Both Briar and Bronson pushed hard to get their 1-2 finish," said Gary Gray, Vice President – Racing, Technology & Service for Indian Motorcycle. "It was exciting watching Briar battle Jared to get his first win of 2018. Plus, Bronson riding Brad's FTR750 and getting his first ever twins podium made for a really amazing day at Mechanicsburg."
With two races to go, Mees has already wrapped up his fifth career Grand National Title, securing the victory at last weekend's Springfield Mile II. The title win was his second consecutive aboard the Indian Scout FTR750. Indian Motorcycle privateer Henry Wiles currently ranks second with 239 points, while Brian Bauman ranks third with 196 points. Jeffrey Carver Jr. and Kenny Coolbeth Jr are fourth and fifth with 180 and 163 points, respectively.
The season continues on September 29 in Indian Motorcycle's backyard at the Minnesota Mile at Canterbury Park. For more information on Indian Motorcycle Racing, backed by Allstate Insurance, the Indian Wrecking Crew and Scout FTR750, visit IndianMotorcycle.com and follow along on Facebook, Twitter & Instagram. For information on purchasing a Scout FTR750, please contact Racing@IndianMotorcycle.com.
À PROPOS DE INDIAN MOTORCYCLE®
Indian Motorcycle est America's first motorcycle company®. Fondée en 1901, Indian Motorcycle a gagné le cœur des motocyclistes dans le monde entier et a été nommée comme l'une des marques américaines les plus légendaires et célèbres grâce à sa domination inégalée dans les courses, ses prouesses techniques, ses innombrables innovations et ses premières industrielles. Aujourd'hui, cet héritage et cette passion sont ravivés grâce à la nouvelle gestion de la marque. Pour en savoir plus, veuillez visiter le site www.indianmotorcycle.com.