Filtrer vos résultats par véhicule
Voyez si cela correspond à votre véhicule Cela est compatible avec votre Cela n'est pas compatible avec votre
Aucun enregistrement trouvé pour la recherche

Genuine Leather Saddlebags
Numéro d'article
2880234-01
Description du produit

These Genuine Leather Saddlebags provide convenient and versatile cargo space to an Indian Scout. These saddlebags feature a spacious polymer tub, wrapped in vinyl, to ensure the saddlebags hold their shape and provide easy access to the entire interior space. The interior is covered by a stylish, weather-resistant premium leather lid and straps that complement the look and style of the seat. The saddlebags can be installed and removed quickly and easily without tools once a set of Mounting Spools (sold separately) have been installed. Indian Motorcycle makes no claims that this cover will protect your motorcycle in the event of a severe weather event.
Overview & Specs

One pair Genuine Leather Saddlebags, black
Add convenient, weather-resistant cargo solutions that enhance your bike's style
Each bag has a spacious polymer tub, wrapped in vinyl, that holds its shape and provides full access to the bag interior
Water-resistant premium leather bag lids and straps match the color of the seat.
With Mounting Spools (required sold separately) installed on bike, saddlebags can be added/removed quickly without tools
For style, straps feature branded badges and bags feature contrasting stitching
Storage volume: Left-hand bag: 4.6 gallons; Right-Hand bag: 4.8 gallons
Warranty: 1 year from date of purchase

| | |
| --- | --- |
| Couleur | Black |
| Matériau | Genuine Leather Lid and Straps, Polymer Tub and Vinyl Wrapping |
| Facilité d'installation | Medium |
| Requis et vendus séparément | Mounting Spools |
| Capacité de rangement | Left hand: 4.6 gallons; Right Hand 4.8 gallons |
| Capacité de poids | 7 lbs. of cargo |
| Soin et nettoyage | Please see your Indian Motorcycle Rider's Manual for specific cleaning and maintenance instructions. |
| Garantie | Warranty Information |
Ce qui est inclus

Set of Genuine Leather Saddlebags, Installation Instructions
Genuine Leather Saddlebags, Black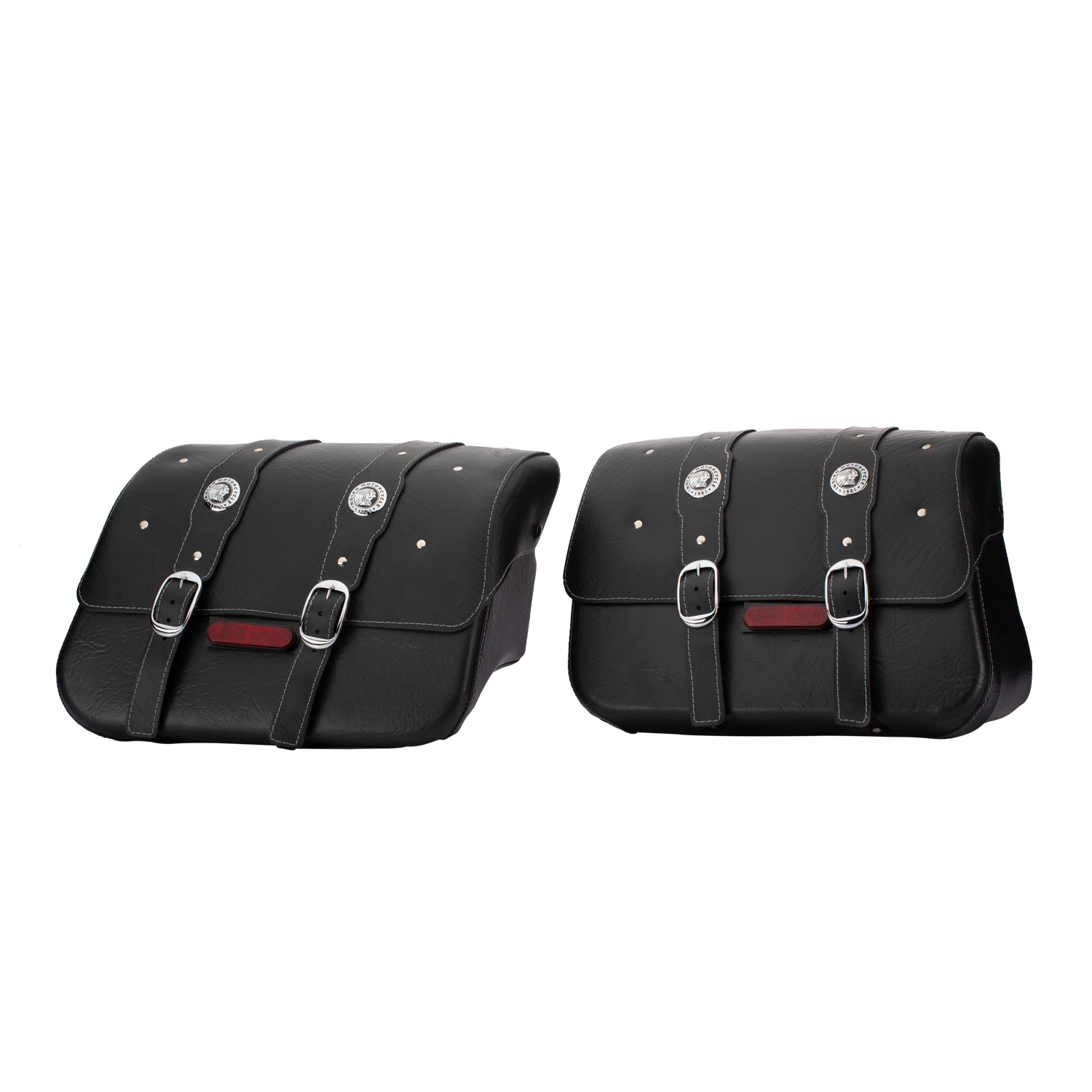 Genuine Leather Saddlebags, Desert Tan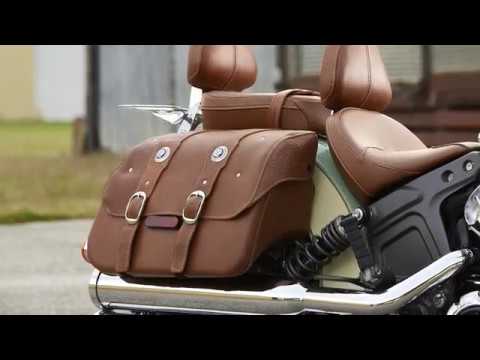 Vidéo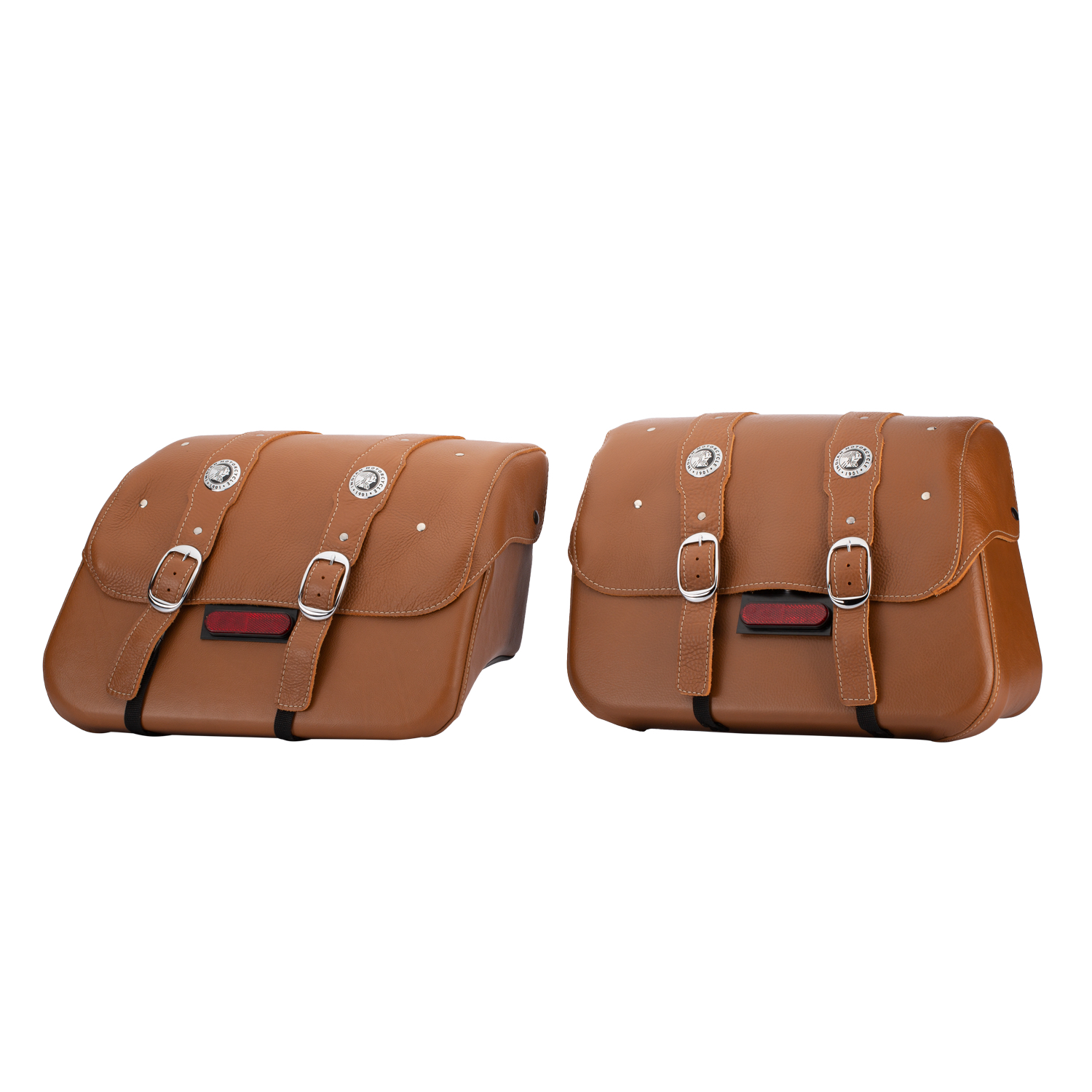 Récemment consulté
Chargement en cours...