Filtrer vos résultats par véhicule
Voyez si cela correspond à votre véhicule Cela est compatible avec votre Cela n'est pas compatible avec votre
Aucun enregistrement trouvé pour la recherche

Genuine Leather Saddlebags
Numéro d'article
2880234-05
Ce produit est en cours de fabrication et sera bientôt disponible à l'achat.
Description du produit

These Genuine Leather Saddlebags provide convenient and versatile cargo space to an Indian Scout. These saddlebags feature a spacious polymer tub, wrapped in vinyl, to ensure the saddlebags hold their shape and provide easy access to the entire interior space. The interior is covered by a stylish, weather-resistant premium leather lid and straps that complement the look and style of the seat. The saddlebags can be installed and removed quickly and easily without tools once a set of Mounting Spools (sold separately) have been installed. Indian Motorcycle makes no claims that this cover will protect your motorcycle in the event of a severe weather event.
Overview & Specs

One pair of Genuine Leather Saddlebags, Desert Tan
Add convenient, weather-resistant cargo solutions that enhance your bike's style
Each bag has a spacious polymer tub, wrapped in vinyl, that holds its shape and provides full access to the bag interior
Water-resistant premium leather bag lids and straps match the color of the seat
With Mounting Spools (required sold separately) installed on bike, saddlebags can be added/removed quickly without tools
For style, straps feature branded badges and bags feature contrasting stitching
Storage volume: Left-hand bag: 4.6 gallons; Right-Hand bag: 4.8 gallons
Warranty: 1 year from date of purchase

| | |
| --- | --- |
| Couleur | Desert Tan |
| Matériau | Genuine Leather Lid and Straps, Polymer Tub and Vinyl Wrapping |
| Facilité d'installation | Medium |
| Requis et vendus séparément | Mounting Spools |
| Capacité de rangement | Left hand: 4.6 gallons; Right Hand 4.8 gallons |
| Capacité de poids | 7 lbs. of cargo |
| Soin et nettoyage | Please see your Indian Motorcycle Rider's Manual for specific cleaning and maintenance instructions. |
| Garantie | Warranty Information |
Genuine Leather Saddlebags

Authentic Indian Motorcycle® Accessories keep your bike a true Indian Motorcycle®. Premium leather, brilliant chrome, dynamic performance and meticulous craftsmanship. Our Genuine Leather Saddlebags are a great addition to your motorcycle and is a top seller for our consumers.
Ce qui est inclus

Set of Genuine Leather Saddlebags, Installation Instructions
Genuine Leather Saddlebags, Desert Tan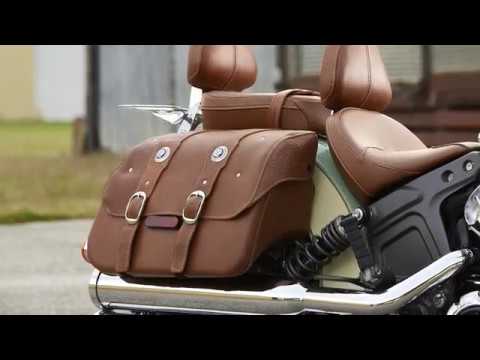 Vidéo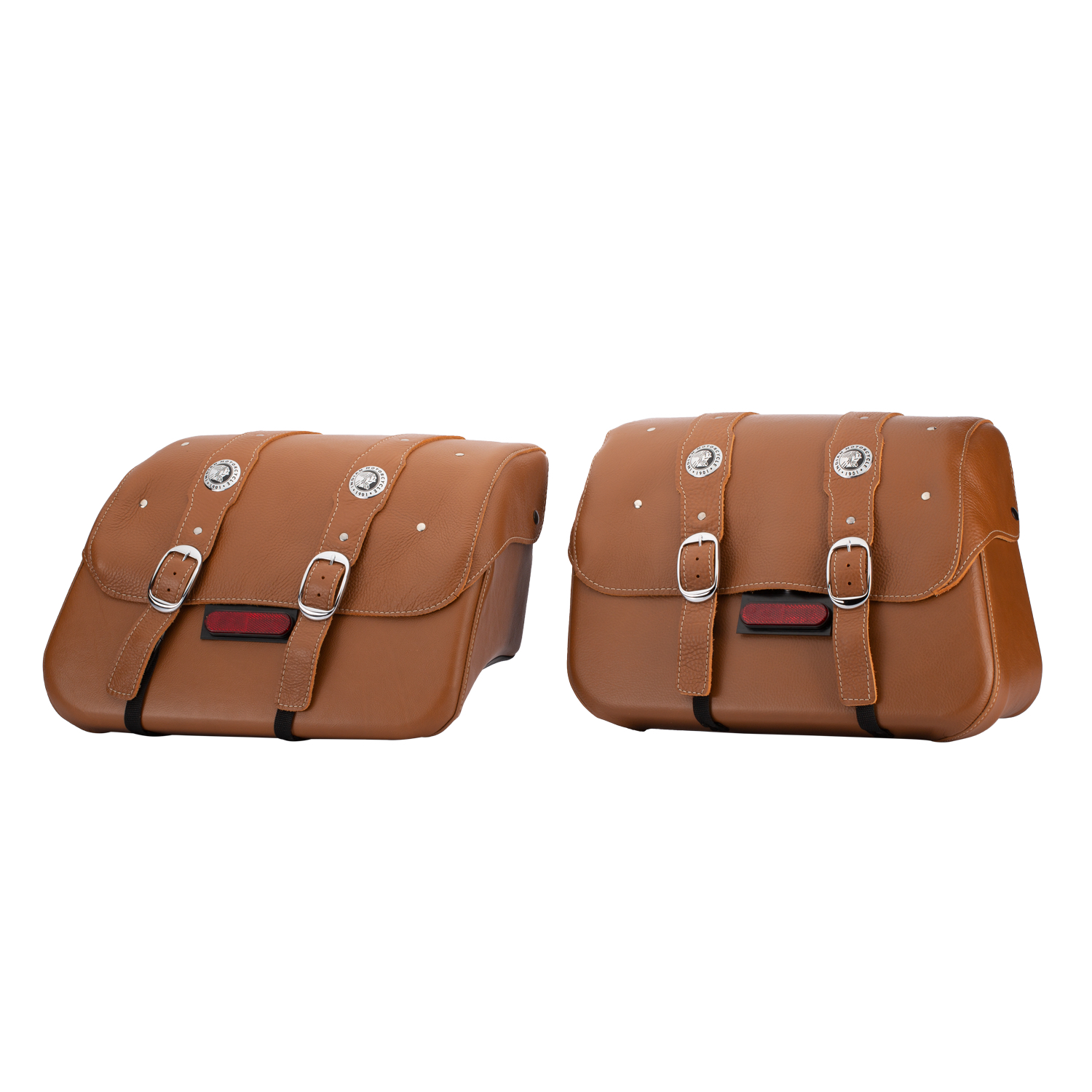 Genuine Leather Saddlebags, Black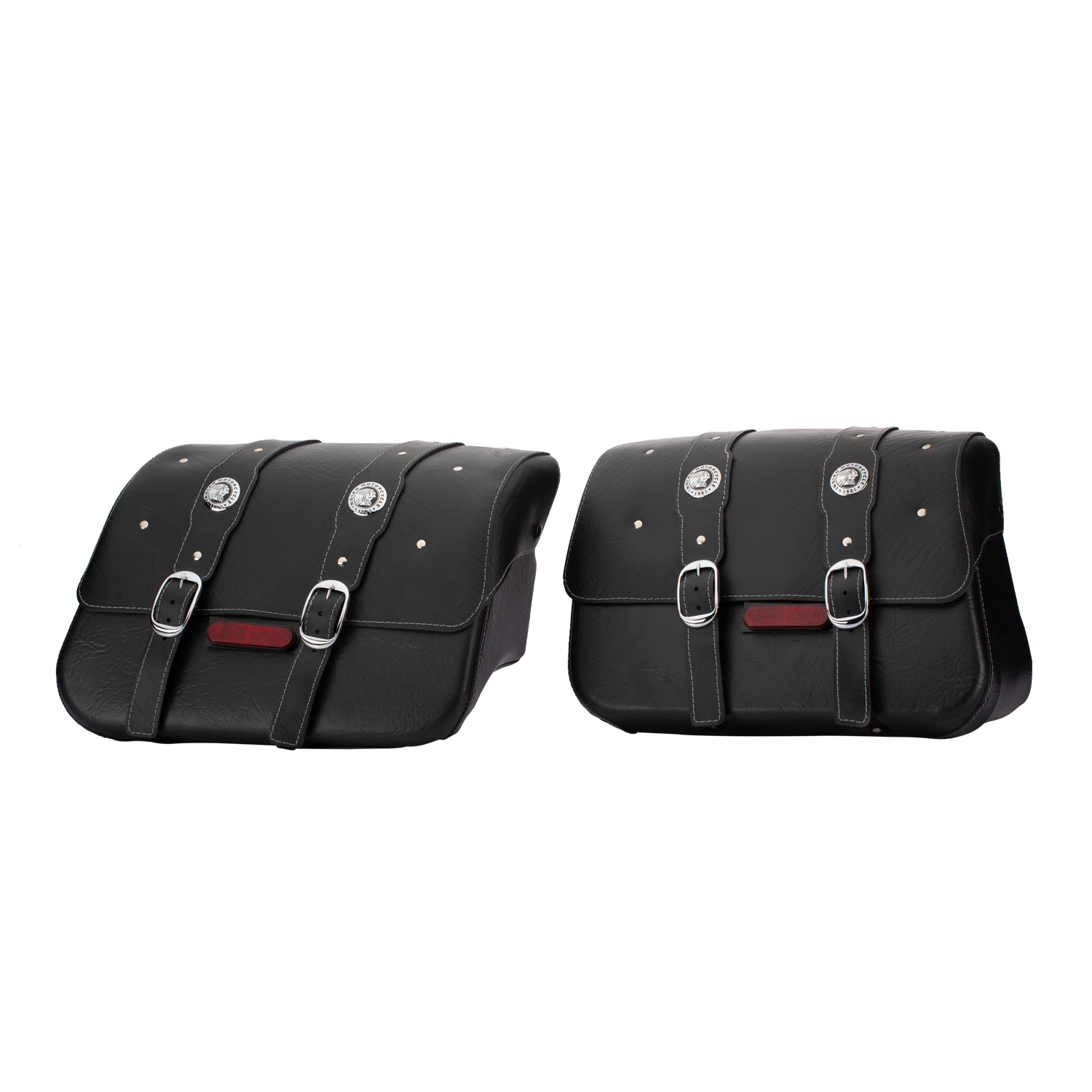 Récemment consulté
Chargement en cours...