View the Indian Motorcycle service parts catalog by assembly diagram for common components like body panels, fenders, batteries and more.
Le livre des pièces pour ce modèle est toujours en cours de développement, veuillez revenir plus tard.
Indian Parts & Maintenance Resources
---
Obtenez des services d'entretien et de réparation professionnels
Pour ceux qui préfèrent confier le service et l'entretien de leur véhicule à un professionnel certifié, RideReady a été conçu pour vous.
Choisissez la méthode de service qui vous convient le mieux.
Nous nous rendons chez vous et effectuons l'entretien de base et l'installation d'accessoires dans vos locaux.
Nous nous chargeons du transport du véhicule vers et depuis la concession pour répondre à vos besoins d'entretien.
Utilisez RideReady pour prendre rendez-vous avec votre concessionnaire et vous pourrez déposer votre véhicule à l'heure qui vous convient.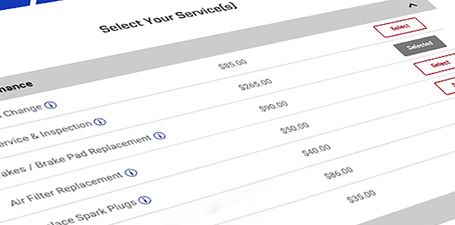 Service et tarification transparents
Transparence du service et des prix pour qu'il n'y ait pas de surprises. De plus, recevez des notifications tout au long de votre rendez-vous d'entretien pour vous tenir au courant de l'état de votre véhicule.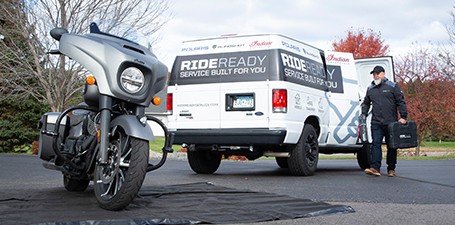 En choisissant un concessionnaire certifié RideReady, vous pouvez être sûr que votre véhicule est entretenu par un technicien expérimenté et certifié par l'usine. Tous les fournisseurs de services RideReady vérifient les antécédents de leur personnel mobile et de transport.