Une puissance infinie au bout des doigts
Regardez cette vidéo pour voir tout ce que Ride Command peut vous offrir.
Intégration parfaite avec tous les appareils
Connectivité en temps réel entre vos appareils et votre moto.
Téléchargez l'application Ride Command d'Indian Motorcycle et rendez-vous sur RideCommand.IndianMotorcycle.com pour activer des fonctionnalités telles que celles de préparation et de suivi du parcours. Vous pouvez également contrôler les données du véhicule, consulter les conseils d'entretien et consigner les révisions à distance sur votre appareil mobile.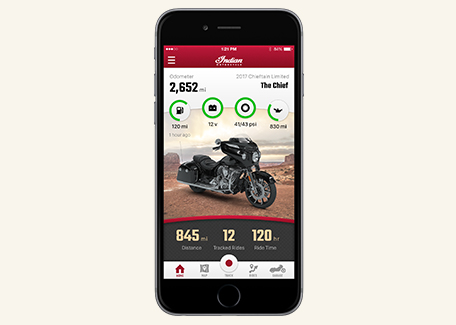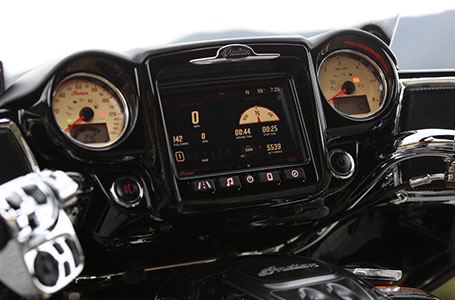 Données avancées du véhicule
Gardez les yeux sur la route et tout le reste.
Surveillez la pression de chaque pneu, l'autonomie du carburant, les kilomètres jusqu'à votre prochaine vidange d'huile, l'altitude actuelle, la moyenne d'économie en carburant, la direction, l'état du système Bluetooth® et bien plus encore.
Bluetooth® est une marque de commerce déposée de Bluetooth Sig, Inc.
Le plus grand écran tactile sur deux roues
Allez-y, gardez vos gants.
Notre écran de 7 pouces est le plus grand écran offert sur une moto. L'écran à haute résolution et lumineux est positionné près de vous, afin que vous puissiez le lire et l'atteindre facilement. Et grâce à la technologie tactile qui permet l'utilisation des gants, vous pouvez accéder rapidement à ce que vous voulez. Avec des gants ou sans gants.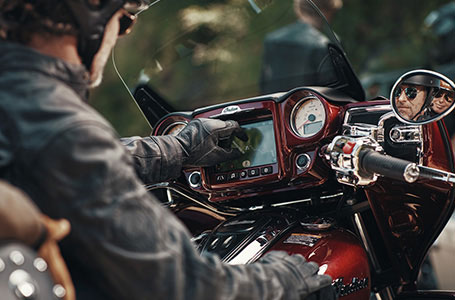 Aussi facile à utiliser qu'à envier
Vous cherchez plus de réponses? Ces vidéos devraient vous convenir.
Présentation de l'écran
Le système Ride Command d'Indian Motorcycle est l'écran tactile le plus grand, le plus rapide et le plus personnalisable de l'industrie. Regardez cette vidéo pour découvrir Ride Command, y compris les écrans d'affichage personnalisables, les paramètres audio, le jumelage Bluetooth, la navigation et les commandes manuelles.
Planification et transfert d'itinéraires
Apprenez comment préparer un parcours sur RideCommand.IndianMotorcycle.com, puis transférez-le sans fil à l'écran de votre moto pour obtenir des instructions de navigation.
Updating Your Software
Learn how to update your Indian Motorcycle with the latest Ride Command software.
Nouvelles caractéristiques
La nouvelle mise à jour de Ride Command vous permet de planifier un trajet sur votre bureau, de l'envoyer à votre application pour téléphone intelligent et de connecter le trajet à votre moto via Bluetooth. Découvrez comment.
Données de moto
Mettez à jour votre logiciel Ride Command pour suivre le niveau de carburant, le niveau d'huile, la pression des pneus et la charge de la batterie de votre moto Indian Motorcycle.
Découvrez-le par vous-même.
Le système Ride Command, ça vous impressionne? Attendez de l'essayer vous-même.
Mises à jour de Ride Command d'Indian Motorcycle
Bénéficiez de trois années de mises à jour cartographiques gratuites à l'achat de toute nouvelle moto Indian Motorcycle avec Ride Command.