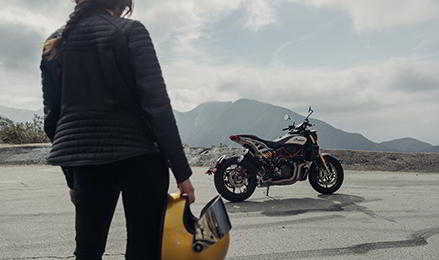 Beginner Riders - When to Upgrade Your Motorcycle
Your first motorcycle will always be memorable. It's the start of brand-new experiences, a whole new lifestyle and the beginning of lasting friendships forged on the road. If you're like most new riders, you started with something you could handle—perhaps going easy on size and horsepower until you got comfortable behind the handlebars. But now that you're more experienced, you know more about the rider you want to be. You're ready to pick out that next bike that fits perfectly with the image of yourself and the way you want to ride.
Signs You're Ready for Your Next Motorcycle
So, when is the right time to move on to the next milestone? There's no set timeline, but there are some sure signs that you're beginning to "outgrow" your current motorcycle. Much will depend on the first bike you bought, your level of confidence on the road and what you're looking to gain from future motorcycling experiences. Think about the following questions to help you decide if it's time for something new.
Have You Mastered the Riding Basics?
Many riders feel the need to upgrade once they've become comfortable with their first motorcycle. First bikes are often chosen specifically for ease of handling to help with the learning process. A small frame, lightweight design and manageable power are often key to learning the basics of braking, balancing and steering. Once you have those down, you might be ready for something different.
Are You Looking for a More Comfortable Ride?




A larger bike will bring some added comforts to your riding experience. If you're looking for a motorcycle that will smooth out the bumps with a beefed-up suspension, provide a little more padding and back support in the seat area, and let you stretch out your arms and legs a bit, then you might want to think about a Cruiser or a Bagger. They'll give you the added comfort you're craving.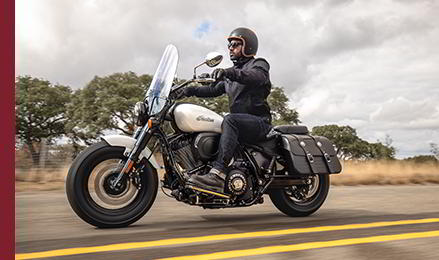 Powerful motorcycles with instant acceleration can be intimidating for a new rider. Which is why beginner motorcyclists often start out on the lower end of the power spectrum. But once you become comfortable with clutch and throttle controls, you can learn to manage power and use it to your advantage. If you're feeling like your current ride just doesn't have the get up and go, it's a good indication that you're ready for a step up.
Has Your Riding Style Changed?
One clear sign that you're ready for your next motorcycle is you've discovered your riding style, and it doesn't fit the bike you own. Some riders may have started on a dirt bike and are looking for something they can ride around the city with, such as a Bobber or Cruiser. Others may have started on a commuter bike and are looking to take longer road trips on their motorcycle. In that case, a Bagger or Touring motorcycle would do. If any of this describes you, start looking for a ride that fits your desired riding lifestyle.

From ABS Brakes to High-End Audio—Is Your Current Motorcycle Missing Some of the Latest Features?
If you went the used or bare-bones route for your first bike, chances are you could have some motorcycle envy. From important safety features like anti-lock brakes to comfort features like cruise control—purchasing your second bike is an opportunity to make some well-deserved upgrades. Consider things like extra storage, LED lighting, keyless control, premium audio and even a touch screen with onboard navigation. Pick the options that are most important to you and go with it.
How to Choose Your Second Motorcycle


If you answered yes to any of the questions above, the next question may be: "So, which bike is right for me?" The good news is there are a lot of options out there. But don't let yourself get overwhelmed. If you're honest with yourself about what you want and how you want to ride, picking out that second bike will be easy, fun and extremely rewarding. There's even an online tool that can help you choose.
Determine What Type of Riding You Want to Do
Identify your primary use. Will it be riding around town for fun? Will you use it to commute to work? Will it be used mostly for day trips with friends? Or do you plan to take it overnight, on a 3-day weekend or even longer?

Those who are riding for fun might stay small with a Standard or Bobber motorcycle. Commuters and day trippers might be interested in a Cruiser or a Bagger. While Touring bikes are built for traveling several days at a time. If you have a secondary use in mind look at models that might accommodate those needs as well. For example if you're looking to primarily cruise around town but will go on an occasional overnight, a Bagger might be your best bet.
Decide What Kind of Power You Want
If you said yes to more power earlier, it's important to understand what type of power you might be looking for. Do you want acceleration off the line, or something that has the horsepower to cruise the highways with confidence? Sportier models that pack power include the racing-inspired FTR. On the other hand, moving from a Bobber to a Cruiser or Bagger will give you confident power to pass, merge or carry a passenger.
Figure Out Your Budget
If the bike you want is out of your budget and you're not looking for more power, consider modifying your existing motorcycle with accessories and add-ons.
Probably the most important factor in picking out your next motorcycle would be how much you plan to spend. Many riders prefer to keep their first motorcycle, as it carries special meaning to them or lets them enjoy different riding lifestyles. Others might consider its trade-in value to help offset the cost of the next bike. Financing is often available to help as well. Once you've considered it all, set a number and set your priorities from most to least important. Then use that as your guide.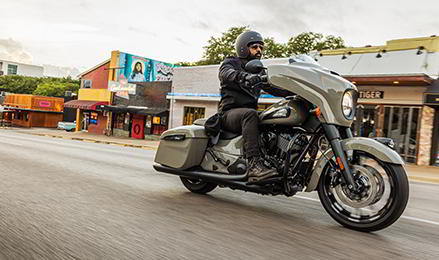 Get Ready for Your Next Chapter in Riding
You've done all your homework. You've defined what your current motorcycle may be lacking and know what you want in your next ride. You've got some models in mind and a budget you're comfortable with. Now, let the fun part begin. Visit your nearest dealer. Test ride a few different models and get a feel for what fits you and your idea of life on two wheels. Your second bike will be everything you wanted and more.