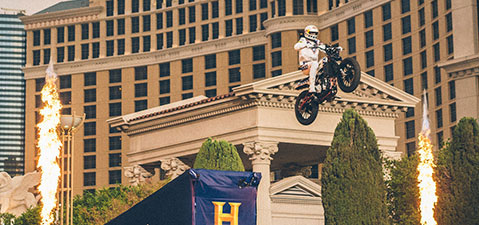 2018 Travis Pastrana Jumps
The Recreation of Three Historic Jumps
---
Stacked Car Jump
Evel is remembered for his numerous distance jumps over rows of crushed cars. To kick off the night, Pastrana soared over the length of 52 stacked, crushed cars.
Bus Jump
In October 1975, Evel jumped a massive 133 feet, clearing 14 buses in Kings Island, OH. On July 8th, Pastrana pushed the limits even further, clearing 16 buses.
Caesars Palace Fountain Jump
Recreating Evel Knievel's ill-fated 1967 jump, Pastrana launched 150 ft. over Caesars Palace's iconic fountain riding an Indian Scout FTR750, then successfully landed and rode out on the other side.
Evel Live 2
Just over 50 years after Evel Knievel's attempt to jump the fountain at Caesars Palace, Travis Pastrana honored his legacy by recreating three of Evel's most famous jumps successfully.

On July 7th, 2019 at the San Bernardino Airport in front of millions of TV viewers, Nitro Circus rider Vicki Golden pushed the boundaries on what is possible with a machine. Vicki became the first woman to attempt the firewall record, riding a new FTR 1200 at high speed through a series of 13 flaming wooden boards, breaking the previous record of 12.

The Indian FTR 1200
With true flat tracker style and the performance to back it up—this was the perfect choice for Vicki Golden's ground breaking record attempt. The same features might just make this the motorcycle you've been waiting for.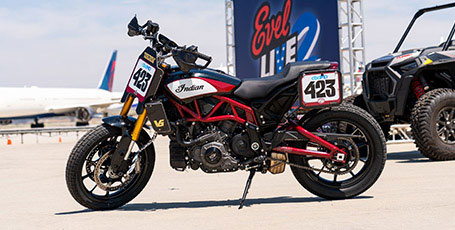 HISTORY and the HISTORY H logo are trademarks of A&E Television Networks, LLC. All Rights Reserved. Used with Permission