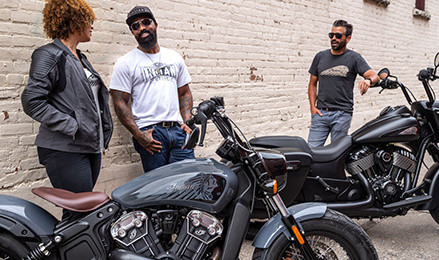 The Complete Guide To Buying A Motorcycle
The Ride Of Your Life
At Indian Motorcycle, we believe the choices you make define you. Throwing your leg over a brand new motorcycle lets the world know who you are, and how you choose to be seen. Deciding to ride is the first big step. Choosing a ride that expresses who you are is where the thrill begins.
There are a few important things to consider when you first think about buying. Everything from the type of motorcycle that fits you, to engine size and level of riding experience, to a basic budget. Start here, because if you don't have a bike you love, a bike you can handle, a bike that feels like an extension of you - you'll be disappointed in the outcome.
Are you more of a stripped-down cruiser type or is a fully loaded bagger or touring motorcycle more your style? This buying guide will help you answer those questions honestly. Because in the end we're here to help you find the bike that's right for you.
NEW TO RIDING
Tips for Buying Your First Motorcycle
Buying your first bike is one of the more exciting moments in life. But it can also be somewhat intimidating. A little research into which different types of motorcycles are best for a beginner is a great place to start. Engind size and seat height are often important factors to consider for the new rider, who is just learning how to handle their new machine. Avoid going overboard on power or picking a heavier bike you might have difficulty handling when cornering or at a stop.
---
How To Find The Perfect Fit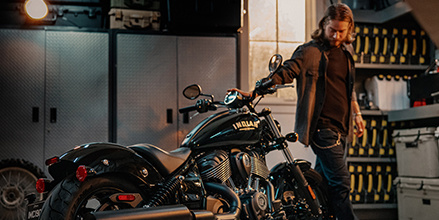 Your feet should be able to touch the ground when seated
You should be able to easily reach all of the controls at all times
Your arms should be slightly bent when you grasp hold of the hand grips
When riding your knees should tuck in against the gas tank
Your feet should also rest firmly on the foot pegs
When stopped you should be able to hold your bike upright without a lot of effort
As a new rider, be sure to consider a motorcycle safety course. It's required in some states and some insurance companies offer discounts for completion. Expect to learn your way around a motorcycle, how to operate it, the rules of the road and tips regarding roadway safety specifically for motorcycle riders.
HAVE A PLAN
Things to Consider Before Buying a Motorcycle
Before you head out shopping, it's a good idea to establish a general budget. Do you have a range you're willing to spend, or do you have a set price you absolutely won't go over? Will you pay cash in full or take out a motorcycle loan to finance it? Are you absolutely on new, or is used an option?
If going for new, check for special offers and financing options available through your local dealer that could help offset cost. Indian Motorcycle offers a convenient online payment calculator that can help you see what your monthly payments might be, and be sure to look at your trade-in options Your trade doesn't have to be a motorcycle. Some dealers will take off-road vehicles, snowmobiles, boats, trailers and more.
Finally, when it comes time to purchase, have a plan for insurance. Discounts may be available if bundling with home or auto insurance. Be sure to factor in a helmet and other riding gear. You can spread out the cost by buying some of these things in advance as you look for your perfect ride.
CHOOSING A MOTORCYCLE
Some Quick Tips - Plus A Handy Help Me Choose Tool
Once you've established your budget, it's time to get serious about your personal style. You probably already have a look or feel in mind. Maybe you saw a low-slung, blacked-out Indian Chief or Scout Bobber that caught your eye. Possibly a long weekend on an Indian Motorcycle bagger or touring motorcycle is what you are thinking about. How do you picture yourself?
To help narrow down your options, consider bike type and how it fits your riding style and performance expectations.
If you still can't decide what type of bike is best for you, Indian Motorcycle offers a Help Me Choose tool that will put your priorities in order.
BUYING A NEW MOTORCYCLE
When It Comes Time to Make It Yours
After you've researched everything online, it's the perfect time to head to your local dealer, because these machines are even more impressive in person.
Your dealer can show you different models you might have been comparing so you can check them out and take them out for a test ride. Be sure to bring any builds you've created and ask about any promotions or financing options available to you They'll help you bring one home when you're ready.
Keep in mind, you can order your new bike stock or outfit it with accessories to match your style and the way you like to ride. You'll get a better fit and avoid the hassle of shopping for and installing aftermarket parts and accessories on your own. Use your build tool to add all of your "must-have's" - to update style, enhance performance, add protection or enhance comfort.
IF YOU END UP OPTING FOR USED
Know Your Options
If you decide to go the used route, many dealers offer previously owned inventory for you to explore. Be sure to obtain a VIN check to get the bike's full history and be cautious of salvage titles, excessive wear, engine problems and high mileage. One of the best things you can do is have your trusted shop or local dealer do an inspection and engine check before buying. Be sure to give it a tune up after purchase.
Many used bikes sold in northern regions will have lower mileage on them because they aren't ridden year-round.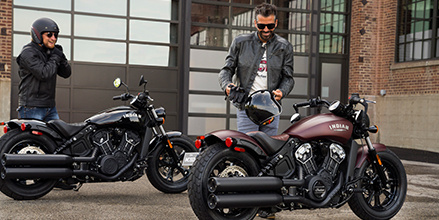 RIDE SAFE
Don't Forget the Protective Gear
Good thing all the clothing and equipment that protects you can help you look great and be comfortable out on the open road as well. A good-fitting helmet that offers high visibility, ventilation and impact absorption is highly recommended and the law in some states, plus a close-fitting, abrasion-resistant zippered jacket with high rise collar and snug cuffs is essential. Pair that with abrasion resistant pants and rugged, over-the-ankle boots, plus a pair of riding gloves and you're almost set. Give extra thought to clothing that provides high visibility to other motorists around you.
AFTER PURCHASE
Get Out and Ride
Congratulations! Once you've picked out and purchased your new motorcycle, there's nothing like those first few rides. Before you go all out, keep those rider safety tips in mind and familiarize yourself with proper break-in procedures for your bike available in our owner resources. And be sure to set some reminders to perform routing maintenance after break-in. All of this will go a long way toward your bike taking you on the long and winding road ahead.