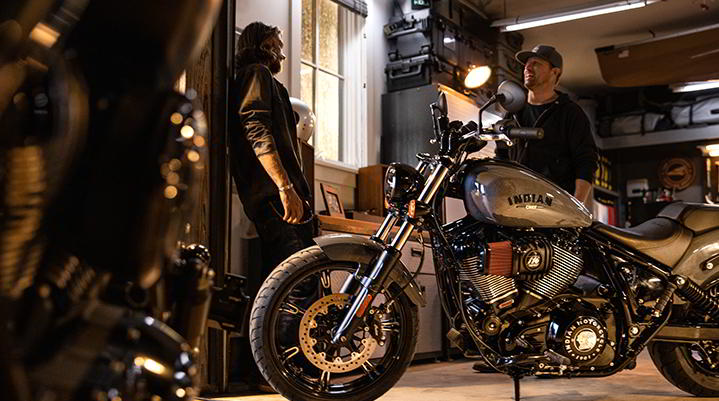 Best Motorcycle Upgrades for Beginners
&nbsp
You've done the work. You put in the research, narrowing down your choices until you found the perfect bike. The first ride? Magic. There's nothing quite like those first few outings, and with good reason. Getting the feel for a new motorcycle on the open road is one of life's greatest thrills.
But as you've put on the miles and become more comfortable with your new bike, you've started to notice things. Things that aren't quite to your taste. Maybe you're looking for more padding for longer rides, or premium audio that cuts through road and throttle noise. Whatever the case, it might be time to consider some upgrades for your bike—and we're here to help.
Here's everything you need to know about the most common motorcycle upgrades for beginners.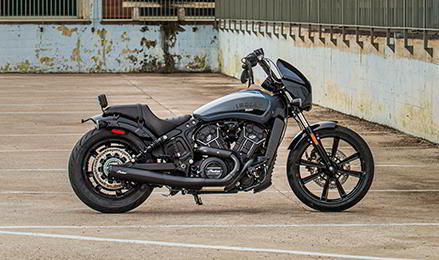 Comfort Modifications To Make The Miles Fly By
There are few feelings worse than having to stop and take a rest during a long cruise because of soreness, cramping legs or other discomfort. Sound familiar? Consider comfort modifications for your bike to alleviate fatigue and undue wear and tear on your body to have more time doing what you set out to do: riding.
Add Technology To Power Your Passion
Technology isn't just for the home and office. Adding some new tech gear to your bike can make getting where you're going easier, safer—and a lot more fun.

Add GPS & Navigation
Adding GPS & Navigation to your motorcycle can do more than just help you get from Point A to Point B. A system like RIDECOMMAND can assist in organizing group rides by planning a route, setting up waypoints, and sharing the route with everyone ahead of time. These advanced systems will even track fellow riders if you get separated.
Upgrade the Audio System and Add Speakers
For those who prefer having a soundtrack for their ride beyond the roar of the throttle, adding an upgraded audio system and speakers are a must. Your engine, road noise and full-faced helmets can all detract from sonic enjoyment while in the saddle. Speakers can be added to the upper fairings, saddlebags, trunk and lower fairings for crystal-clear audio at highway speeds. Some audio systems, like PowerBand, are engineered to provide 360-degree sound—cutting through background noise and immersing you in your music.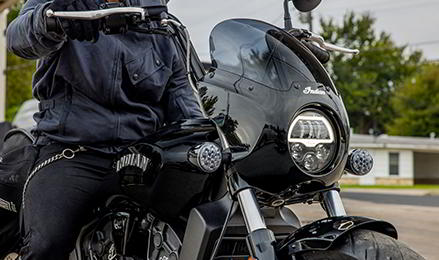 Add Style To Stand Out in a Crowd
Your bike should feel like an extension of you, and aesthetics go a long way toward making that happen. Add some style to your motorcycle to show up how you want to be seen.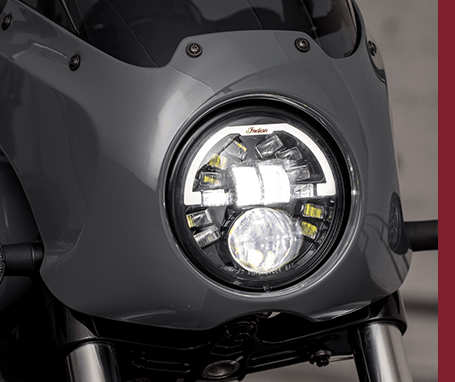 LED headlights enhance your bike's custom style while helping you see better at night when it matters most. You need to be able to pick out road debris, potholes and other potential road hazards well in advance to safely avoid them.
Replacing your stock lighting with more powerful, bright and energy-efficient LED headlights doesn't just enhance your own visibility. The clean, direct light they provide also improves your prominence to other riders and vehicles, making the road safer for everyone. You can even add adaptive headlights, which monitor your bike's lean angle in real-time and deliver optimized illumination of the road ahead.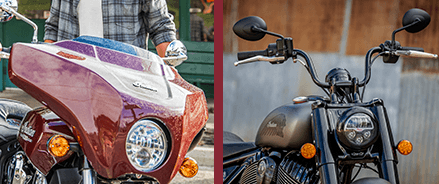 Fenders and Fairings
Installing fenders and fairings (or swapping out your existing ones) is another way to add distinctive style to your motorcycle that's sure to turn heads. There's an endless variety of colors and finishes available, allowing for further personalization and options to accent your bike's appearance.
Beyond style, fenders provide you with protection from small debris and less road spray. Fairings block rain, provide some wind management, and some even allow you to determine how much airflow reaches your lower body—all while giving the front end of your motorcycle a completely fresh look.
Handlebars
Adding a unique set of handlebars to your bike is one of the best ways to stand out from the pack with custom style. Changing your handlebars can create a completely different look and riding vibe for an otherwise familiar setup. From ape hangers and mid-rise handlebars to 1920s style beach and drag bars, there's a wide range of styles to choose from. Handlebars can also improve comfort and ergonomics, improving endurance and keeping you on the road for longer cruises.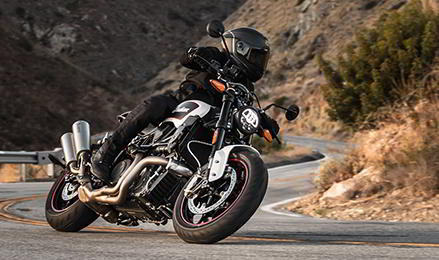 Performance Modifications for Spirited Riding
Once you've acclimated to your first bike, it's almost inevitable that you'll want to make some modifications to get more performance out of your setup. Fortunately, some of the easiest upgrades to add will also offer the most noticeable boost in performance.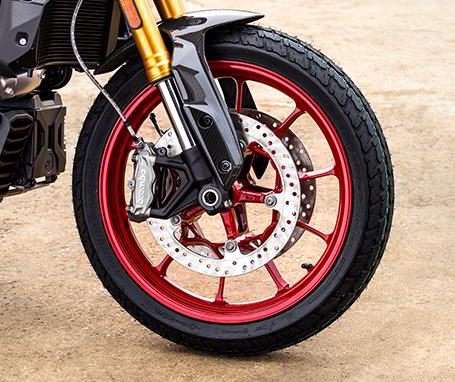 New Wheels
Swapping out your stock wheels for an upgraded set is one of the best ways you can get more performance out of your motorcycle. Lightweight wheels will significantly change the way your bike behaves on the road, providing improved agility and acceleration.
New Tires
Upgrading your tires will give your motorcycle a performance lift with improved traction, handling and a smoother ride. You can also choose tires suited to the climate and terrain you ride in most frequently, giving you better grip and tighter control on your home turf.
Exhaust & Air Intakes
Updating the exhaust and air intake is another way to improve the performance of your bike, allowing the engine to breathe better and work more efficiently. In some cases, an upgraded exhaust and air intake will unleash additional ponies—giving you a boost in horsepower. This upgrade also provides the opportunity to fine tune the sound of your motorcycle, enhancing style and giving you a distinct sonic calling card any time you're in the saddle.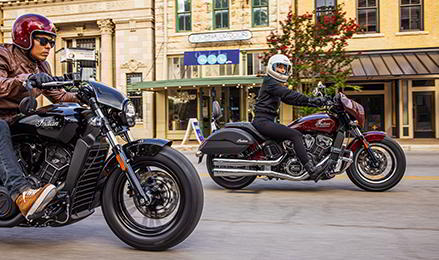 Elevate Your Ride
Upgrades can improve the comfort, style, and performance of your first motorcycle—enhancing your experience and taking your riding to new heights. It's a great way to tailor your bike to your unique preferences and let the world know who you are. Whether you're into long cruises, racing, or making sure your motorcycle's aesthetic is a perfect expression of yourself, there's an upgrade or two out there for you. Gear up, get out and ride.