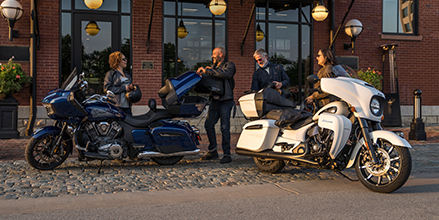 Motorcycles For Touring
>
You started out riding dirt bikes. The thrill of the track showed you the freedom of the ride. Next, came cruisers. You hit the road, traveled fast, and felt the power of the wind on workday commutes and weekend rides. Then, you realized the ride didn't need to end so soon. You could travel, see the country, and pack along all you needed with a touring bike. There are many models, options, and brands available when choosing a touring motorcycle. We can give you some advice to find the right bike for your adventures.
What is a Touring Motorcycle?

Touring motorcycles are designed for long rides and tend to have 2-up seating, powerful engines, high-tech features, waterproof storage and comforts such as heated seats and grips.


What is the Difference Between a Cruiser and Touring motorcycle?

Both cruisers and touring motorcycles have powerful engines which are ideal for highway riding, but touring motorcycles are specifically designed for long distance riding. Touring motorcycles are perfect for camping trips, weekend getaways, road-trip vacations and rides to bike rallies.


What Makes A Great Touring Motorcycle?

When it comes to touring motorcycles, you've got options. Let's break down some of the key considerations in choosing.


Driving Feel

For a considerable amount of time on the road, you want a touring motorcycle that is both agile and responsive. You want to feel every curve and to be one with the road, which starts with finding confidence through your bike. From handlebar fit to a frame that feels right, you'll know it when you take a seat.



Open Road Sound

When you're riding cross country, the sound of the wind is bound to change. You'll pass cars, other bikes, and a wide variety of country and city scenes. Beyond that, two sounds are essential: your audio system and engine. Some of us love metal, others classic rock, and a few, even country. If you don't love your audio system, you can usually upgrade, but when you find the perfect sound for the start, even better.



Infotainment Experience

Music isn't the only piece of your entertainment experience on the road. Motorcycling has definitely seen things changing in the infotainment space. If it can be done in a car, what's to stop the same experience on the road on a touring motorcycle? I mean, you're going cross country, turn-by-turn navigation is more than a safety feature, it's a game-changer. The open road and adventure always beat meetings, but if you're taking a few days away off the grid, find a bike that lets you stay connected with Bluetooth and more.



Abundant, Weatherproof Storage

When you're getting ready to hit the road, you want the process to be as easy as possible. Sure, you're not going to have as much storage as you have in your truck, but that's part of the adventure. And at the same time, you don't want to feel limited. Touring is about freedom, and that includes bringing the things that will make your adventure the best. Find a bike where you don't need to be quite as selective and where you don't need to worry about your luggage. Pro-tip: always opt for a weatherproof trunk and locking saddlebags when available.



Comfortable Ride

Still, at the end of the day, no matter what your bike boasts, nothing makes a touring motorcycle ready for the road like the perfect seat. It's the defining factor of travel. When you test out the driving feel, be selective and pick a seat you know you'll love. You're making the investment, right? So why would you choose a bike that makes your backache? There are a lot of seat styles out there and whether it's extended reach or plusher, we recommend testing a variety.


High Tech Features

Above the essentials, a bike's details can really determine if it's built for the long haul. If features aren't your top priority right now, after a few rides you'll realize what you're missing. Our advice: go big from the get-go. LED lighting, keyless ignition, cruise-control, tire-pressure monitoring, heated grips, heated and cooled seats, and automatically adjustable windshields – the list goes on! Face it, whatever just stood out to you (or whatever two or three things) should be a must on your list.

Keep these factors in mind and grab a pen or your phone. List out what you think would make your dream bike in each category now. But keep an open mind, until you're at the dealership, you still might be drawing some unknowns.


Why Choose an Indian Motorcycle Roadmaster?

Now that you have your priorities in mind, let's talk about the Indian Motorcycle Roadmaster lineup. We know motorcycles, and with over one hundred years of experience, we've learned to incorporate all these elements that make a great touring bike into our models. Whether the classic Roadmaster standard, blacked-out Roadmaster Dark Horse, stunning Roadmaster Limited, or top-of-the-line Roadmaster Elite, there's something for every touring rider. Explore your options, but no matter what you choose try a test ride before committing to any touring companion.
How can I customize a touring motorcycle?


If you're in it for the long haul, making your ride your own and accessorizing is a must. Your bike should match your style and the way you ride. Upgrades are on your timeline, and everyone has a different reason for taking their next step whether that's style, amenities, comfort, or something else. Again, you've got options. An accessory package can help you level up overall or you can choose specific features. To get you thinking, Indian Motorcycle's Authentic Accessory Portfolio has plenty ideas.