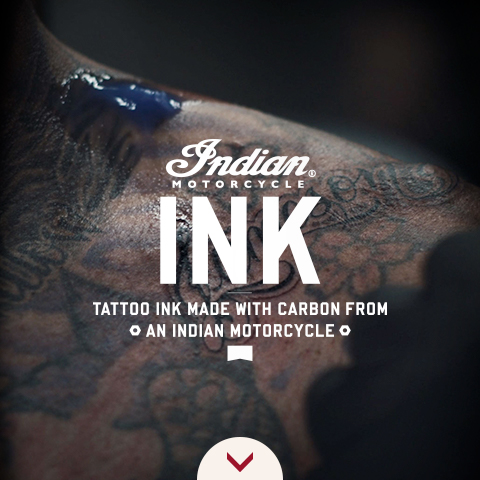 Indian Motorcycle® Tattoo Ink
IF RIDING IS IN YOUR BLOOD,
PROVE IT.
A third-generation motocross rider, Carey Hart most definitely has riding in his blood. Indian Motorcycle® worked with Carey to prove that fact in a way that's half genius, half insane: We collected the carbon from a burnout on one of his Indian Motorcycles, and used it as pigment in sterile and safe tattoo ink to mark him forever. This Indian Motorcycle Ink is composed of carbon ash collected from Carey's legendary Indian® Super Hooligan on May 22, 2017 outside of Los Angeles, California.

Indian Motorcycle Ink is being used by artists at Hart & Huntington and Vatican Studios for a limited time. Explore #IndianMotorcycleInk to find out more.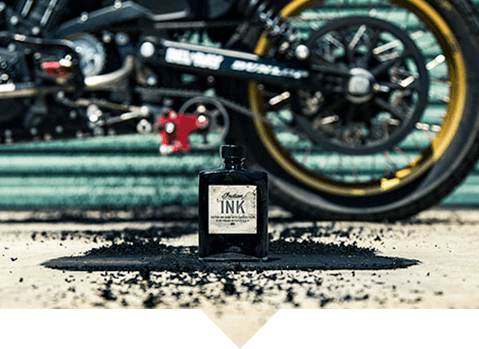 THE INK
BECOME A PART OF OUR LEGEND, BY LETTING IT BECOME A PART OF YOU.
Everyone's first question: How is this safe? The answer came from Carey's longtime tattoo artist, Franco Vescovi, co-founder of Nocturnal Ink. Franco brings decades of top-quality ink manufacturing experience to the table, ensuring our process is sterile and safe. The carbon simply acts as a pigment carried by the alcohol suspension. In fact, many black inks on the market use carbon as pigment. Ours just happens to come from a smoldering motorcycle tire and a smoking tailpipe.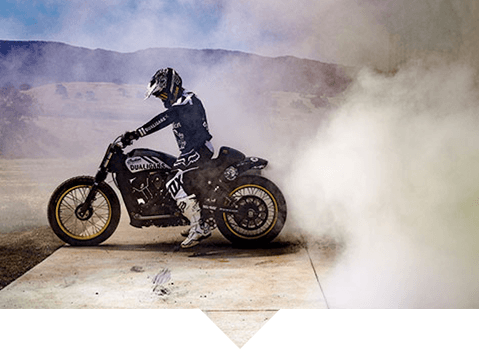 THE RIDER
CAREY'S PERMANENT BURNOUT.
Carey was given his first motorcycle by his father at age four, in hopes of creating a bond that transcended generations. Riding quickly became Hart's passion, and he began racing at age six. Fast forward to 2003, and Hart was the first man to land a back flip on a motorcycle—a feat that will never be forgotten. Today, Carey is either building bikes, riding bikes or donating his time to a multitude of worthy charities. The bond between Carey and riding has never been stronger. Now, he and Indian Motorcycle have made that connection literal, and everlasting.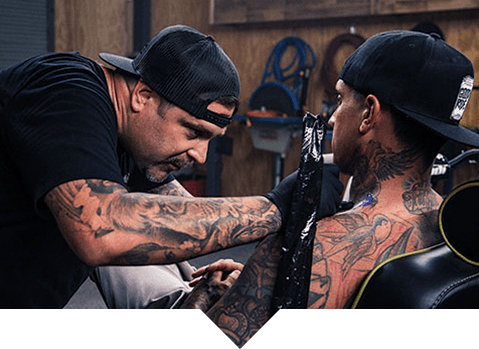 THE TATTOO
BLOOD & CARBON. FATHER & SON.
As a long-term partner of Indian Motorcycle, Carey Hart has always been game for pushing boundaries in riding, racing and what it means to be legendary. He recently welcomed his first son, Jameson, into the world. This put an interesting lens on the Indian Motorcycle Ink project. Carey opted to use the ink from the burnout to tattoo his newborn son's name on his neck—forever bonding his bike, his son and himself for the world to see.