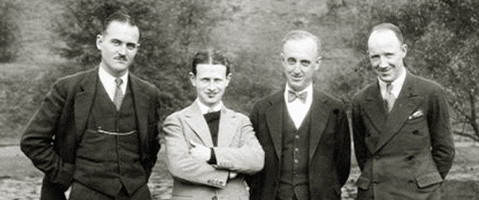 In 1897, industry pioneer George M. Hendee founded a bicycle production company called the Hendee Manufacturing Company. Along with co-founder and chief engineer Oscar Hedstrom, Hendee opened the company's first factory in downtown Springfield in 1901.

What followed was half a century of unparalleled growth in motorcycle production and innovation, and foundational leadership in curating a true American riding culture. In 1923, the company changed its name from The Hendee Manufacturing Company to The Indian Motocycle Company – no 'r' in 'motocycle' when the word was first used with the name Indian. Less than two decades later, Sturgis, South-Dakota -based Jackpine Gypsies rider group held a race called the Black Hills Classic, which evolved to become the world's largest motorcycle rally.

Over its early years of existence, the company displayed extraordinary resilience as its trailblazing success in innovation and on the racetrack continued despite the advent of the Great Depression and two world wars. In fact, not only did the brand survive these tumultuous times, but its considerable contribution to the war effort during WWI and WWII provided essential vehicles to both the American and French troops on the ground.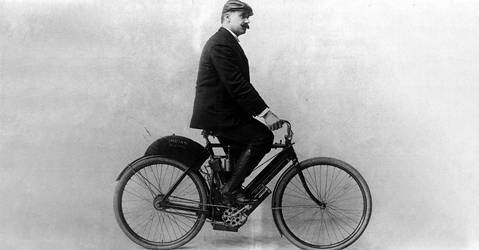 Before founding the Hendee Manufacturing Company in 1897, George M. Hendee was an accomplished bicycle racer and manufacturer from Watertown, Massachusetts. In 1901, Hendee hired Oscar Hedstrom to build gasoline-powered bikes to pace bicycle races, and opened the company's first factory later that year in downtown Springfield, Massachusetts. The machine the pair produced proved to be powerful and reliable, establishing the company's reputation for outstanding performance.

Later in 1915, Hendee resigned as general manager, but decided to stay on as president, until he fully retired from the Hendee Manufacturing Company in 1916. In his retirement, he bred Guernsey cattle and white leghorn chickens on his farm in Suffield, Connecticut.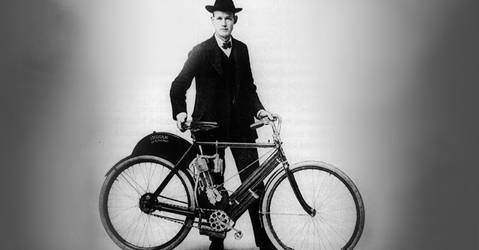 Oscar Hedstrom co-founded the Hendee Manufacturing Company, serving as chief engineer until his resignation in 1913. Hailing from the small parish of Lonneberga, Sweden, it was Hedstrom's initial design of the motorized pacing bicycle that laid the groundwork for the rapid growth of America's first motorcycle company.

Besides his revolutionary career as a motorcycle manufacturer, Hedstrom also enjoyed considerable success as an endurance rider, notably hitting a then-record speed of 56 miles per hour as he won a race from New York City to Springfield, Massachusetts and back in 1903.
In 1930, eminent industrialist E. Paul Dupont sold his share of Dupont Automobile to Indian Motorcycle, buying a large share in Indian Motorcycle stock. E Paul forced out the company's existing management team and put Loring F. "Joe" Hosley in charge of day-to-day operations, who led a period of formidable growth for Indian Motorcycle.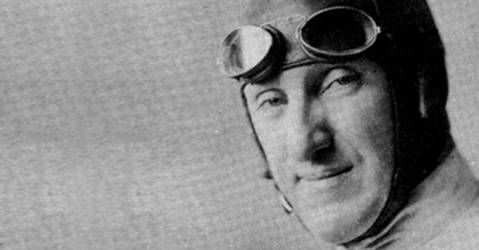 Erwin "Cannon Ball" Baker
Erwin "Cannon Ball" Baker was a pioneer of long-distance racing, and an early ambassador for Indian Motorcycle. In a great testament to Indian Motorcycle's endurance and durability, Baker rode from San Diego to the East Coast in a new record time of 11 days, 12 hours, 10 minutes in 1914. Less than a year later in 1915, Baker set the fast time in a Three-Day run from Canada to Mexico via California, which he completed in three and a half days.
The Hendee Manufacturing Company's early racing years were marked with paramount success in endurance rides. In the company's first reliability trial in 1903, co-founder and chief engineer Oscar Hedstrom rode one of his motorcycles to a new world speed record of 56 miles per hour and won an endurance race from New York City to Springfield, Massachusetts, and back. Building on the co-founder's success, in 1906 dealers George Holden and Louis J. Mueller rode an Indian motorcycle from San Francisco to New York City in a record 31 days without a mechanical problem.
As the institution of American motorcycle racing grew, the company's competitive focus shifted to the track. In 1937, renowned racer Ed Kretz won the first Daytona 200 race on an Indian Sport Scout.
This early era of racing success also saw the founding of the Indian Motorcycle Wrecking Crew in the late 1940's, a record-breaking racing team consisting of legendary racers Bobby Hill, Bill Tuman, and Ernie Beckman. By the early 1950's, the Crew was dominating on both dirt and road courses; Bobby Hill won the Springfield Mile back-to-back years in 1951 and 1952, and teammate Bill Tuman completed the three-peat for IM in 1953.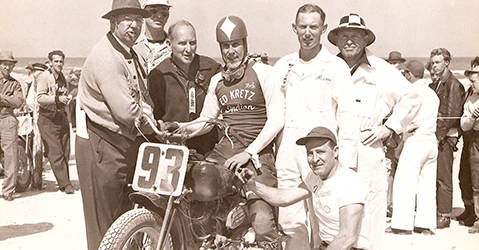 The U.S. Army began using Indian Motorcycles in 1913, and with the arrival of World War I, Indian Motorcycle dedicated a majority of its production to the war effort once the U.S. entered the field in 1917. As a result of this shift to meet war-time demand from the military, dealers had limited inventory and retail sales dropped significantly. Overall, the company contributed nearly 50,000 motorcycles from 1917 to 1919, most of them based on the Indian Powerplus model.
Two decades later, the U.S. was entangled in yet another cataclysmic global conflict: World War II. Yet again, Indian Motorcycle stepped up as they focused virtually the entirety of their production from 1940 to 1945 to the Allied cause in WWII. Indian Motorcycle first produced bikes primarily for the French government and built the Model 841 bike for the U.S. Army in 1941. Over the span of WWII, Indian Motorcycle delivered $24 million worth of motorcycles and spare parts for the war effort, culminating in over 35,000 bikes sent to Allied troops.
SEE THE BIKES THAT SHAPED INDIAN MOTORCYCLE'S EARLY SUCCESS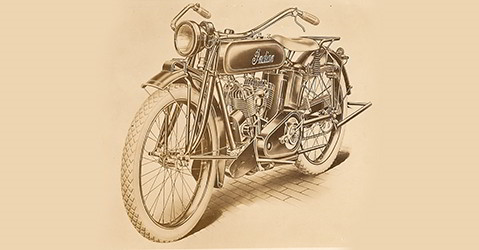 FIRST V-TWIN FACTORY RACE BIKE
In 1906, the first V-twin factory race bike was built. A version of the racing engine was introduced in consumer models for the 1907 model year, making the 39-ci (633 cc), 42-degree V-twin the first American V-twin production motorcycle engine.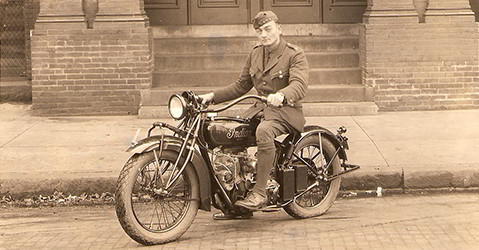 In 1920, the company released the first Indian Scout. This fast, reliable, maneuverable bike enticed many people to start riding.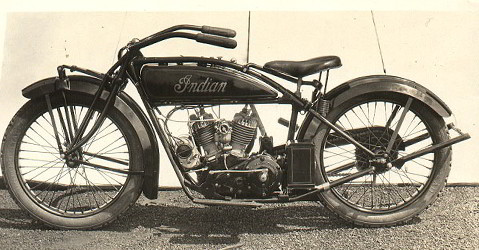 Following the introduction of the Indian Scout in 1920, the company released the Indian Chief, a new platform that proved a sturdy foundation for Indian Motorcycle's early growth.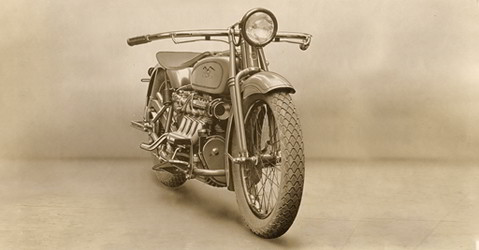 The Indian Ace, released after Hendee's acquisition of the Ace Motor Corporation, quickly became a staple of the company's pioneering production in its initial years of development.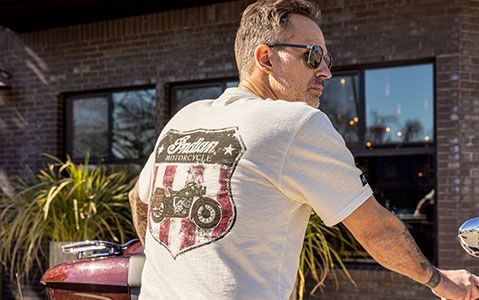 This collection was designed to celebrate our history as well as our passion to create what's next for American Motorcycling.