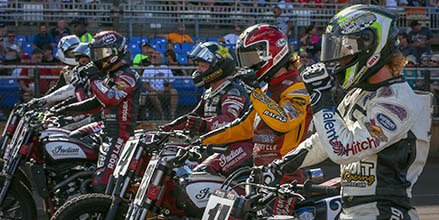 Indian Motorcycle Racing's 2019 Contingency Program Offers $18,500 Per Race & $25,000 Championship Bonus
Indian Maintains Aggressive Contingency after 2018 Single-Season Privateer Payout Record of Nearly $150,000
MINNEAPOLIS (January 30, 2019) – Indian Motorcycle Racing, the back-to-back reigning American Flat Track Manufacturer's Champion, today announced its 2019 contingency program. Following a record-setting season in which Indian Motorcycle Racing paid nearly $150,000 in privateer contingency, Indian's 2019 program will continue to offer an aggressive $18,500 per race and include a $25,000 championship bonus. In addition, Indian Motorcycle Racing will increase its first-place payout from $5,000 to $10,000 in 2019.
Since its American Flat Track debut in 2017, the championship-winning Indian Motorcycle FTR750 has been the hottest race bike in the sport. After the Indian Wrecking Crew swept the 2017 season standings, many privateers turned to the FTR750 in 2018. Of those privateers, seven placed within the top 10 of the final standings, including Henry Wiles (second), Briar Bauman (third), Jeffrey Carver Jr. (fourth), Chad Cose (sixth), Kenny Coolbeth Jr. (seventh), Jake Johnson (eighth) and Davis Fisher (ninth).
"In 2018, we paid out more in privateer contingency than any other company in the history of professional flat track racing," said Gary Gray, Vice President – Racing, Technology & Service for Indian Motorcycle. "Many of our privateers had career years aboard the FTR750 and garnered consistent results throughout the season. That said, we're excited to maintain an aggressive privateer contingency program and reward those who choose to ride the FTR750."
Indian Motorcycle Racing's 2019 contingency structure breaks down by the following:
Championship - $25,000
1st - $10,000
2nd - $3,500
3rd - $1,500
4th - $1,250
5th - $1,000
6th - $500
7th - $300
8th - $200
9th - $150
10th - $100
To be eligible for contingency payouts, riders must run an Indian FTR750 at all races the team participates in for the 2019 American Flat Track Twins season. The bike must maintain the original red, white and black paint scheme and include the full "Indian Scout" logo across both sides of the tank panel. Additional logos on the bike are acceptable, but must be pre-approved by Indian Motorcycle Racing. Furthermore, riders must wear three Indian Motorcycle patches, including one on the upper chest on either the left or right side, as well as one on both shoulders.
For more information on Indian Motorcycle Racing and the Indian Wrecking Crew, visit IndianMotorcycle.com and follow along on Facebook, Twitter & Instagram.
ABOUT INDIAN MOTORCYCLE®
Indian Motorcycle is America's First Motorcycle Company®. Founded in 1901, Indian Motorcycle has won the hearts of motorcyclists around the world and earned distinction as one of America's most legendary and iconic brands through unrivaled racing dominance, engineering prowess and countless innovations and industry firsts. Today that heritage and passion is reignited under new brand stewardship. To learn more, please visit www.indianmotorcycle.com.