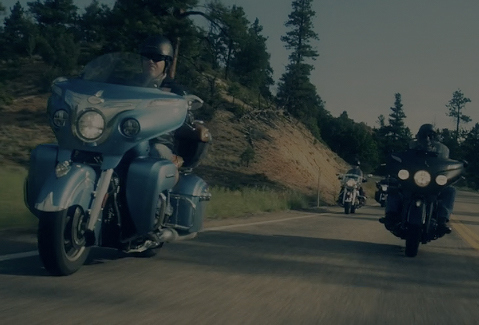 Indian Motorcycle, America's First Motorcycle Company, announced its support and sponsorship of the seventh annual Veterans Charity Ride to Sturgis. The veteran operated non-profit organization uses "motorcycle therapy" to help fellow veterans adjust to post-war life.


New veterans pair with veteran mentors who have already been through the Veterans Charity Ride program and receive one-on-one support to help their transition back to civilian life.


Meet US Army Veteran, Rich Neider
VETERANS CHARITY RIDE TO STURGIS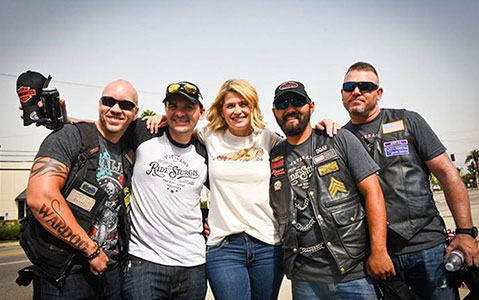 Veterans Charity Ride to Sturgis is an all-expense paid trip to the world's largest motorcycle rally in Sturgis, SD. The cross-country trip offers veterans a unique brand of Motorcycle Therapy.
Getting veterans outdoors, feeling the freedom of the open road with the wind in their faces, to clear their heads and talk with one another about their military experiences in a safe environment to promote healing.
A LIFE-CHANGING PARTNERSHIP
The Veterans Charity Ride was born out of one vet's love of his Indian Motorcycle® and his commitment to help his fellow veterans. In 2014, Army Airborne Paratrooper, Dave Frey, on a solo trip to Sturgis met a fellow paratrooper and they talked about the challenges veterans face after returning from combat. Frey knew the value of Motorcycle Therapy, having ridden for 45 years and he came up with the idea of giving wounded veterans the chance to ride to Sturgis on an adventure of a lifetime. Frey convinced his friend, Emmy Award Winning Director, Robert Manciero to film the ride so it could be shared with as many veterans as possible.

Frey & Manciero knew that they needed motorcycles and support to make this dream a reality so they contacted us at Indian Motorcycle, America's First Motorcycle Company® and the Veterans Charity Ride to Sturgis™ began in 2015.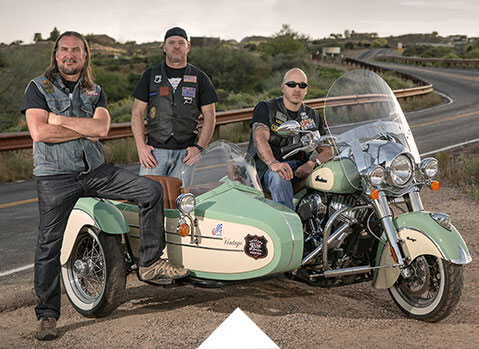 VETERANS CHARITY RIDE TO STURGIS HEROES
ELEVEN DAYS. SIX EPIC DESTINATIONS.
On July 27th, the selected Veterans Charity Ride participants will set off for an eleven-day cross-country motorcycle trip ending in Sturgis, SD. On the way, they'll experience the breathtaking beauty of Moab, pass through many towns large and small, and meet with fellow veterans, riders, and supporters along the way.
Our veterans will make their grand entrance at the Sturgis Bike Rally on August 6, and spend the week celebrating with events, concerts, special surprise excursions, and rides through the Black Hills.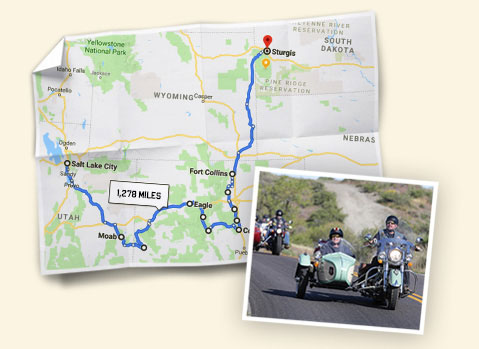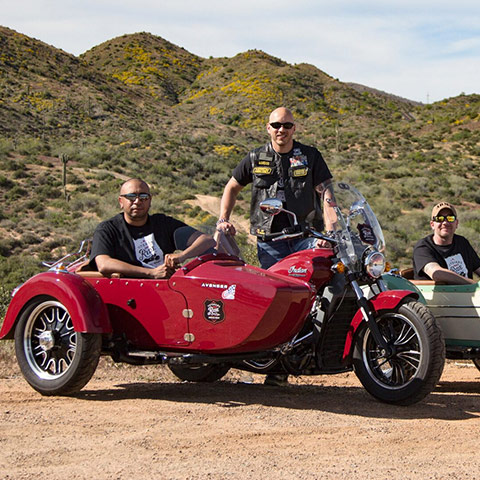 Check out the photo gallery below and experience the ride for yourself as you follow the group on some of the most beautiful roads in America.