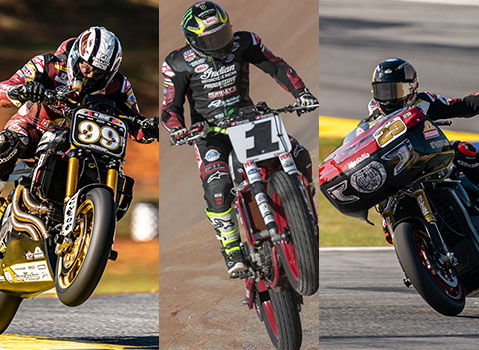 Ultimate Guide to Motorcycle Racing
The history of Indian Motorcycle Racing dates back to 1903, when company co-founder and chief engineer Oscar Hedstrom set a new world speed record and won an endurance race from New York City to Springfield and back. 120 years later, the racing innovation and heritage of Indian Motorcycle is the stuff of legends. Simply put, racing is in our DNA.


Motorcycle racing is an incredibly varied sport with a wide spectrum of classifications, ranging from traditional road races like the Moto Grand Prix to more niche events like Flat Track, hill climbs, bagger races and more. Each class of racing has its own distinct set of rules, outlining everything from bike and engine size to the composition of the racing surface itself. It can be a lot to get your head around, even for an avid rider.


To keep things simple, let's break down the three classes of racing that Indian Motorcycle's Factory Racing program currently competes in: Flat Track, Super Hooligan and King of the Baggers.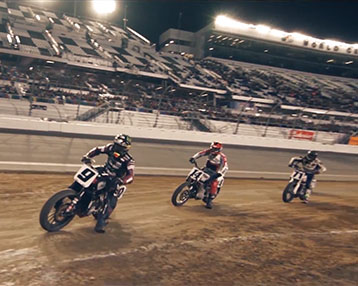 Considered by many to be America's original extreme sport, Flat Track is the only type of motorcycle racing that originated in the United States. Races take place on a flat, oval dirt track with racers hitting top speeds of up to 140 mph on the straights and 90 mph in the corners. It's wildly entertaining, high-octane racing that traces its origins back to motorcycling's original speed demons of yesteryear.


Indian Motorcycle has a storied history on the Flat Track. The original Indian Motorcycle Wrecking Crew of the 1940s and '50s helped define the sport. After assembling a revamped Wrecking Crew in 2017, Indian Motorcycle has claimed six consecutive championships with the FTR750—most recently clinching the 2022 title and extending their legacy of dominance.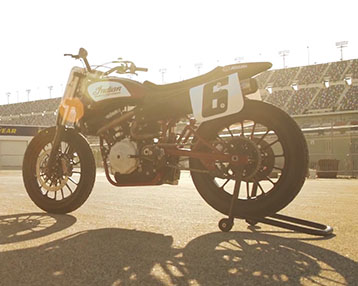 Motorcycles Featured in Flat Track Racing 
Flat Track races feature custom-built, production-based bikes. These motorcycles are highly modified, purpose-built machines with rear brakes that allow for a different technique in the turns compared to other racing disciplines. Historically, Flat Track has been dominated by the fierce rivalry between Indian Motorcycle and Harley-Davidson®—a legendary battle that has been edged by America's First Motorcycle Company in recent years.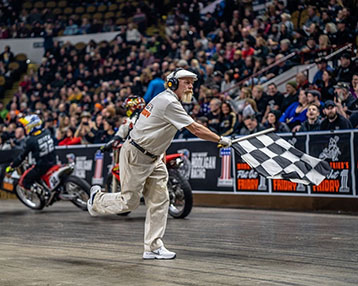 Super Hooligan is a variation of Flat Track racing that's run on street bikes with minimal modifications compared to other racing series. It's open to any manufacturer, and the rules are geared toward parity and honest competition—which makes for seriously fun, seriously exciting races. Super Hooligan has been described as a delicate balance between racing and pure entertainment.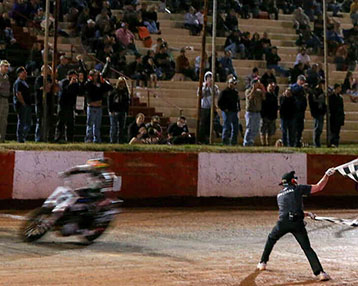 What Is Hooligan-Style Riding? 
Hooligan riding traces its blue-collar roots back to the late 1940s when American soldiers returned from World War II with little money, but big appetites for thrills. Cheap bikes were readily available, and the "run what you brung" ethos was born. A racer would ride their motorcycle to an event, race it, then ride it home.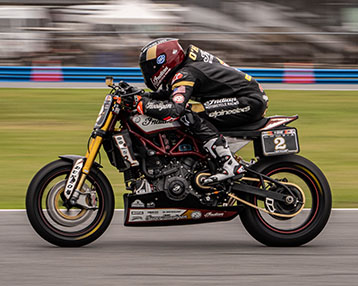 Motorcycles Used in Super Hooligan Racing
The motorcycles used in Super Hooligan racing are typically street-legal, retro-style bikes that have been modified for racing. They're often popular production models like the Indian Scout or FTR, which are then updated to be compliant with series rules and regulations. These bikes usually feature flat track style handlebars and tires, as well as custom bodywork and paint jobs. The result is a high-performance racing machine that's fast, visually striking and accessible to fans.
Super Hooligan Races to Check Out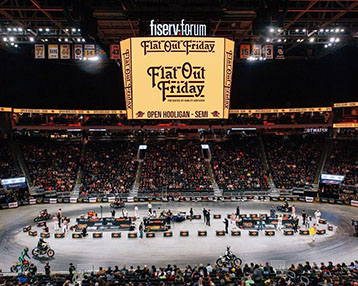 Flat Out Friday
Mama Tried Motorcycle Show | Milwaukee, WI
Flat Out Friday takes place during the Mama Tried Motorcycle show in Milwaukee, Wisconsin. Hooligan racers go head-to-head on an indoor, Dr. Pepper® syrup-coated, concrete flat track where fans have come to expect the unexpected. Described as part race, part rock show and part circus, it's the epitome of Hooligan entertainment.
The One Pro Flat Track Races
The One Motorcycle Show | Salem, OR
The One Pro Flat Track races are run in association with The One Motorcycle Show, which takes place inside the historic Zidell Yards Barge Building in Portland, Oregon. The show itself features custom motorcycles, art, live music, stunt shows and more. Take a quick jaunt to Salem for the Super Hooligan races at the Salem Indoor Speedway, where amateurs and pros alike take on the clay oval track.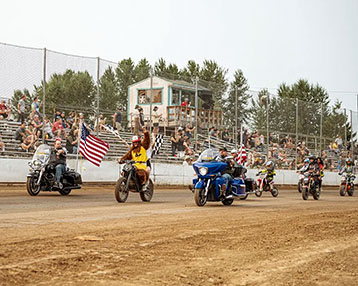 The Wild One
Castle Rock, WA
The Wild One is considered by some to be "a Woodstock for motorcycle racing and shenanigans," with the entire event revolving around flat track racing. It's glorious chaos—a country campout with costumes, live music, Luchador wrestling matches and of course, bar-to-bar Super Hooligan racing action.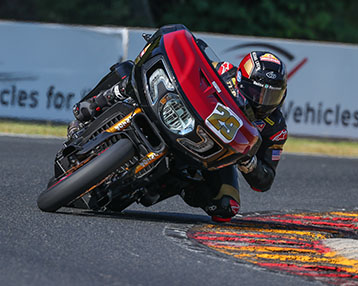 The King of the Baggers series is entering its fourth season in 2023, and it's already becoming one of the most unique and competitive motorcycle racing divisions in the sport. Taking a page from the stock car racing playbook, KOTB serves up on-track action featuring bikes that allow fans to picture their own bikes carving up the corners.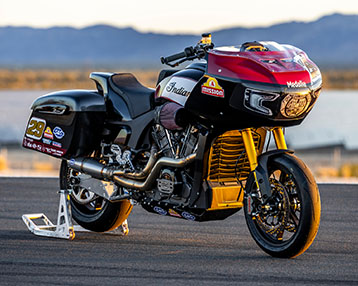 Motorcycles Used for Racing King of the Baggers


While your average rider will recognize the motorcycles featured in King of the Baggers as production touring bikes like the Indian Challenger, the machines used in this series feature heavily modified engines, race-ready suspensions and other upgrades that make them absolute weapons on the track. "Baggers" refers to the saddlebags mounted on each bike, which mirror touring motorcycles on the road. They shift the balance of the bike and make this racing discipline wildly entertaining in the corners.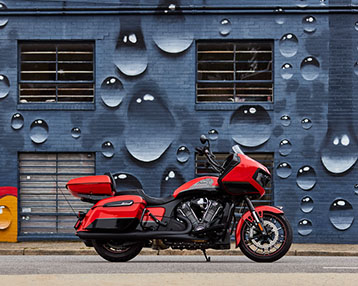 How to Update Your Motorcycle to a Bagger Racing Bike 


To update a touring or bagger motorcycle to be more like the bikes used in the King of the Baggers series, there's a few modifications riders can consider—like upgrading the suspension system for improved handling, replacing the exhaust system for elevated performance and more aggressive sound, or installing a performance air intake for increased power. Riders can also swap out stock wheels for lightweight, high-performance wheels and upgrade the brakes for better stopping power.
KOTB Races in the U.S. 


The raceways featured in the King of the Baggers series are some of the most iconic, challenging tracks in the United States. They offer a balanced mix of fast straights, sweeping corners and technical sections that test racers and bikes alike.
Daytona International Speedway
Daytona Beach, FL

Daytona International Speedway is a 2.5-mile-long, tri-oval-shaped circuit that's been challenging the world's best motorcycle racers for over seven decades.

Michelin Raceway Road Atlanta
Braselton, GA

A 2.54-mile road course located in Braselton, Georgia that features 12 turns and challenging elevation changes.

Road America
Elkhart Lake, WI

This 4.048-mile permanent road course with 14 turns has been hosting motorsports events since 1955.

WeatherTech Raceway Laguna Seca
Monterey, CA

Laguna Seca is a 2.238-mile road course in Monterey, California that features 11 turns, including the famous "corkscrew turn" that drops 59 feet in elevation over 450 feet.

Brainerd International Raceway
Brainerd, MN

This multi-track racing facility located in Brainerd, Minnesota features two road course configurations (2.5 and 3.1 miles) and is the largest racetrack in the upper Midwest.

Circuit of Americas
Austin, TX

Circuit of the Americas is a 3.427-mile, 20-turn road course located in Austin, Texas that was designed to host a variety of racing series including Formula One, MotoGP and IndyCar.

New Jersey Motorsports Park
Millville, NJ

A 2.25-mile road course in Millville, New Jersey that features 14 turns and is known for its challenging corners and high-speed sections.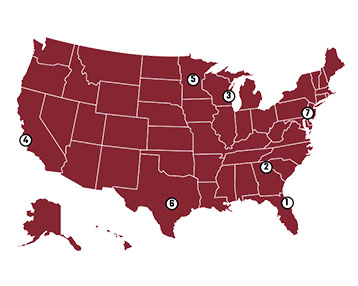 Motorcycle racing is a symphony of speed, sound and skill. Whether you're a seasoned enthusiast or a curious newcomer to the track, King of the Baggers, Super Hooligan and Flat Track races have something to offer for everyone. Now that you're up to speed, it's time to take in a race on TV or at your nearest track—and cheer on the Indian Motorcycle Racing team.