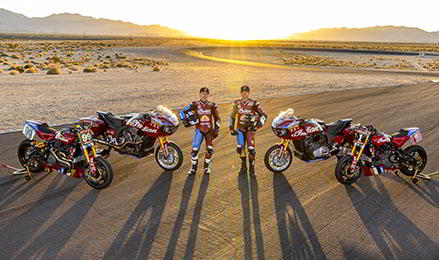 After An Unprecedented Triple Crown In 2022, Indian Motorcycle Racing Announces 2023 Motoamerica® & Progressive American Flat Track® Factory Race Teams & Privateer Contingency
Indian Motorcycle Racing Set to Defend Championships in MotoAmerica King of the Baggers & SuperHooligan Classes & American Flat Track SuperTwins

2022 King of the Baggers & 2022 SuperHooligan Champion Tyler O'Hara & Teammate Jeremy McWilliams to Pilot S&S Indian Challengers and S&S FTRs in MotoAmerica Series

Reigning AFT SuperTwins Champion Jared Mees Chases Scottie Parker's Historic Record of Nine Grand National Championships

Indian Motorcycle Racing Commits More than $405,000 in Combined Privateer Contingency For King of the Baggers, SuperHooligan & American Flat Track National Championship
MINNEAPOLIS (FEBRUARY 16, 2023) – 2022 was a historic year for Indian Motorcycle Racing, capturing an unprecedented triple crown with championships across three different racing classes, including MotoAmerica Mission King of the Baggers (KOTB), SuperHooligan National Championship (SHNC) and Progressive American Flat Track SuperTwins classes. Now America's First Motorcycle Company enters the 2023 racing season intent on defending its triple crown and raising the bar yet again with its factory racing program.
Running three No. 1 plates, Indian Motorcycle Racing welcomes back reigning champions Tyler O'Hara and Jared Mees, along with KOTB and SHNC factory rider Jeremy McWilliams. The company has also announced more than $405,000 in combined privateer contingency for KOTB, SHNC and AFT.
Founded by racers who developed America's first motorized bicycles, fueled by a desire to go faster and win races, Indian Motorcycle has been racing, and winning, for 122 years. From founder Oscar Hedstrom's endurance racing dominance at the turn of the century, to O.C. Godfrey winning the first Mountain Circuit race at the famed Isle of Man in 1911, to Burt Munro's land speed records or the Wrecking Crew's domination in flat track in the 1950s and, more recently, it's six consecutive AFT Championships from 2017-2022, the list of history-making racing milestones is unparalleled. Now the innovative American motorcycle company prepares to defend a triple crown.
"Racing and an overriding spirit of competition has been a driving force for Indian Motorcycle for more than a century, and that competitive fire continues to drive us forward to this day," said Gary Gray, Vice President – Racing, Technology and Service for Indian Motorcycle. "We're incredibly proud of the success we had in 2022 with three different championships, but it's only going to get tougher in 2023, with our competition gunning for us more than ever. But that challenge is what motivates us and pushes us to get better every day, and we're chomping at the bit to go racing in 2023."
MotoAmerica KOTB & SHNC
For 2023, Indian Motorcycle and S&S will pit a two-man factory race team that will take on double duty across the King of the Baggers and SuperHooligan classes. Proudly running the No. 1 plate in both classes, dual-threat champion Tyler O'Hara enters his fourth year aboard the Indian Challenger and his second year piloting an Indian FTR. Pitting alongside O'Hara in both classes is veteran Moto GP racer Jeremy McWilliams, whose technical knowledge and extensive experience at racing's highest levels proved invaluable to the team's success in 2022.
In the 2022 Mission King of the Baggers class, the team's success was driven by O'Hara's versatility, the expertise of the S&S crew, and the consistency and reliability of the Indian Challenger. Through seven rounds aboard his Indian Challenger, O'Hara captured five podiums, including a Daytona win, and two fourth-place finishes.
With the No. 1 plate and an expanded 14-round KOTB series, O'Hara will be the man to beat. But the competition will be tougher than ever, as Harley-Davidson continues to increase its significant investment in the series, adding even more bikes and riders to the King of the Baggers grid for 2023.
"The odds were definitely against us in 2022, and that's what made climbing that mountain and ending up on top all the more special to our entire Indian Motorcycle-S&S team. We grinded week in and week out to rise to that challenge and in the end, we got the job done," said O'Hara. "But now we start over and the climb begins again. This team is truly a family, and we could not be more motivated to defend the championship and successfully rise to the challenge again in 2023."
In addition to its factory efforts, Indian Motorcycle is offering up to $83,000 in KOTB privateer contingency and up to $41,000 in SHNC Contingency.
2023 Indian Motorcycle KOTB Privateer Contingency
Championship: $20,000
1st: $3000
2nd: $1000
3rd: $500
2023 Indian Motorcycle SHNC Privateer Contingency
Championship: $5,000
1St: $3000
2nd: $1000
3rd: $500
AFT SuperTwins
Piloting the Indian FTR750 for his seventh-consecutive year, reigning Progressive AFT SuperTwins Champion Jared Mees enters 2023 with eight AFT Grand National Championships to his name – just one shy of the historic record of nine held by Scottie Parker. A record that many have assumed would never be matched or broken, Mees is looking to do just that as he chases his ninth.
As Mees chases history, he'll rely on his trusted team led by Crew Chief Kenny Tolbert, Assistant Mechanic Bubba Bently and Suspension Technician Jimmy Wood. Mess will also receive support from Rogers Racing, SDI Racing, Drag Specialties, Twigg Cycles, Mission Foods, Monster Energy, Bell Helmets, Service Pro, Ohlins Suspension, Klotz Oil, Klock Werks, RK Chain, Corbin Seats, Engine Ice, RMR Construction, Motion Pro, VP Racing and DBI Motorsports.
In addition to its AFT factory efforts around Mees, Indian Motorcycle is offering the sport's most robust privateer contingency, equating to more than $280,000.
2023 Indian Motorcycle AFT Privateer Contingency:
Championship: $25,000
1st: $7,500
2nd: $2,500
3rd: $1,500
4th: $1,000
5th: $750
6th: $350
7th: $250
8th: $150
9th: $125
10th: $100
MotoAmerica and AFT Indian Motorcycle factory race efforts are presented by Progressive Insurance®, Mission® Foods and Medallia, with additional support from Indian Motorcycle Motor Oil, S&S®, Parts Unlimited, Drag Specialties, Performance Finance, and J&P Cycles.
KOTB, SHNC and AFT seasons begin March 9 at the Daytona International Speedway. For more information on the 2023 AFT season, visit AmericanFlatTrack.com, for KOTB and SHNC, visit MotoAmerica.com.
For information about Indian Motorcycle, visit IndianMotorcycle.com, or follow along on Facebook, Twitter and Instagram.
ABOUT INDIAN MOTORCYCLE®
Indian Motorcycle Company is America's First Motorcycle Company®. Founded in 1901, Indian Motorcycle has won the hearts of motorcyclists around the world and earned distinction as one of America's most legendary and iconic brands through unrivaled racing dominance, engineering prowess and countless innovations and industry firsts. Today that heritage and passion is reignited under new brand stewardship. To learn more, please visit www.indianmotorcycle.com.
INDIAN and INDIAN MOTORCYCLE are registered trademarks of Indian Motorcycle International, LLC. Always wear a helmet, protective clothing and eyewear and insist your passenger does the same. Ride within the limits of the law and your own abilities. Read, understand and follow your owner's manual. Never ride under the influence of drugs or alcohol.


ABOUT S&S® CYCLE
S&S® Cycle was born from a passion for racing and has spent over six decades building performance for the powersports market. Their unwavering focus on quality, reliability and top shelf power has made S&S® Cycle the absolute leader in high performance on the street and track.
MEDIA CONTACT
Alex Caswell
The Brand Amp
IMCPR@thebrandamp.com
(714) 401-4079