A Celebration of American Craftsmanship
Indian Motorcycle and Jack Daniel's both know that at the end of the day, a product is only as good as the team of people behind it. For the fourth consecutive year, the two iconic American brands have joined forces with Klock Werks Kustom Cycles, and this year they paid tribute to those passionate craftsmen with an ultra-premium limited edition motorcycle inspired by Single Barrel Select, Jack Daniel's most finely crafted whiskey offering.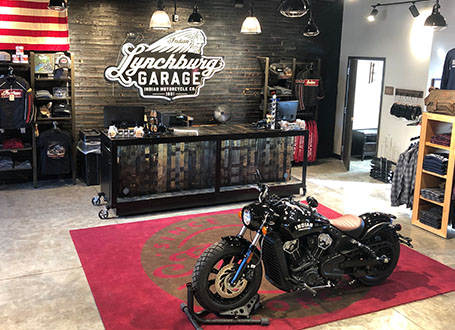 Lynchburg Garage - Celebrating A Partnership
Inspired by the storied history of Indian Motorcycle and Jack Daniel's, Lynchburg Garage represents a new chapter for Indian Motorcycle as the brand expands its reach into apparel and merchandise outlets. Inside guests can grab a refreshment and relax in the hospitality area featuring branded artifacts, mark where you're from on a hometown pin board, or plot the route home on a large scale map showcasing the best motorcycle rides in Tennessee. Additionally, Indian Motorcycle lifestyle apparel and co-branded Jack Daniel's gear is available for purchase.
10 S Mechanic St
Lynchburg, TN 37352
Frequently Asked Questions
Bottles and throttles don't mix. Never drink and ride.
Jack Daniel's® is a registered trademark of Jack Daniel's Properties, Inc.