Personalized Information with Indian Motorcycle Account
Create or log in to your account to manage your vehicle(s) and gain direct access to the following information:
Vehicle Profile & Specs
Maintenance Records & Recommendations
Manuals, Warranty & Vehicle 101
Recent Rides, Ride Planning & Maps
Recalls & Safety Bulletins
Online Purchases & Vehicle Builds History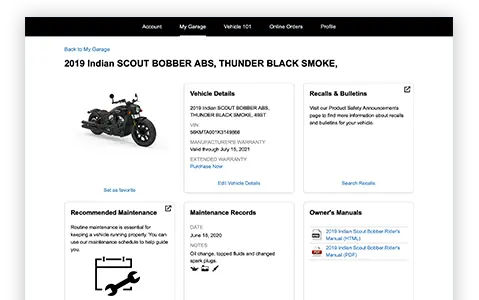 Use the correct techniques when riding, performing maintenance, and installing accessories on your motorcycle. Our how-to videos give step-by-step instructions for common tasks.
System Settings Overview on the 2020 Indian Motorcycle Ride Command
For 2020, Indian Motorcycle introduces exciting updates to their Ride Command system with Connected Services – a completely redesigned version of its industry-leading infotainment system. Learn how to easily adjust the Ride Command display settings to best fit your needs.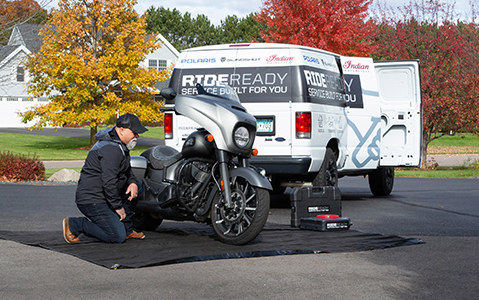 Frequently Asked Questions
How do I find information about factory and extended warranties?
Current warranty information can be found through the VIN Search. You can extend your warranty through the Indian Motorcycle® Protection Plan.
How do I find information about my bike's key fob?
Most Indian Motorcycle® models feature a keyless ignition with a key fob. Learn more about the key fob and its battery life.
Stay up-to-date on the proper usage of your Indian Motorcycle® and accessories. Find more articles in the Help Center.
A look at how often to perform maintenance on your bike and the importance of routine maintenance.
Updating Maps and Software for Indian Motorcycle® Ride Command®
Step-by-step instructions for updating the maps and software on your motorcycle's Ride Command® in-dash system.