Watch this video to see everything Ride Command has to offer.
Advanced Vehicle Data
Keep your eyes on the road, and everything else.
Monitor individual tire pressure, fuel range, miles to your next oil change, current altitude, average fuel economy, heading, Bluetooth® status, and much more.
Bluetooth® is a registered trademark of Bluetooth Sig, Inc.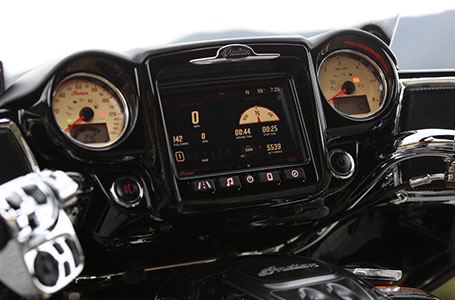 The Largest Touchscreen On Two Wheels
Go ahead, keep your gloves on.
Our 7-inch display is the largest available on a motorcycle. The bright, high-resolution screen is positioned close to you, making it easy to read—and reach. And thanks to glove-touch technology, you can quickly get to what you want. Gloves on, or gloves off.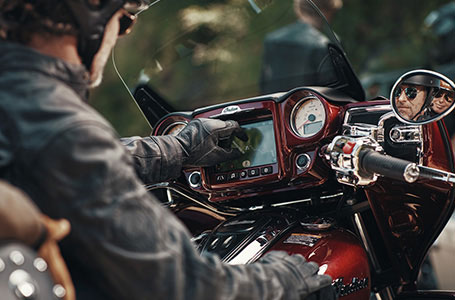 Looking for more answers? These videos should cover it.
Display Overview
The Indian Motorcycle Ride Command system is the largest, fastest, and most customizable touchscreen in the industry. Watch this overview video to learn about Ride Command, including the customizable information displays, audio settings, Bluetooth pairing, navigation, and hand controls.
Bluetooth®
The Indian Motorcycle Ride Command system allows you to easily pair your device to stream your favorite riding music.
Experience it Firsthand.
Impressed with Ride Command now? Wait till you experience it in person.
A Pixel-for-Pixel Comparison
We didn't just enter the game. We changed it completely. See how our system stacks up against the competition.
Indian Motorcycle Ride Command Updates
Get the Software Update
Click below for instructions on how to update your Ride Command display software
Get the Map Update
Download the Map Update application for Windows or Mac to update your display's maps