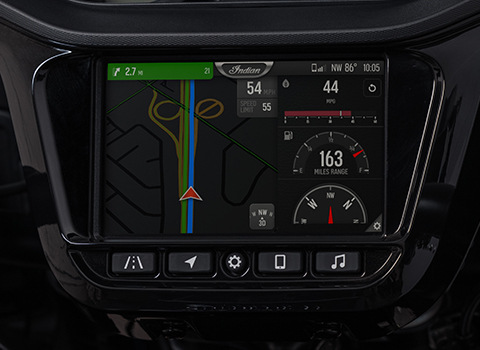 Stay Connected with RIDE COMMAND+
The Indian Motorcycle displays powered by RIDE COMMAND are available with RIDE COMMAND+. It offers a number of connected features that enhance the riding experience. RIDE COMMAND+ gives you the ability to take your on-bike navigation to the next level with features like weather, traffic and speed overlays as well as intuitive destination search. On motorcycles equipped with a 7 in display, RIDE COMMAND+ also gives riders unprecedented visibility through the mobile app or website with features like vehicle locator and remote health.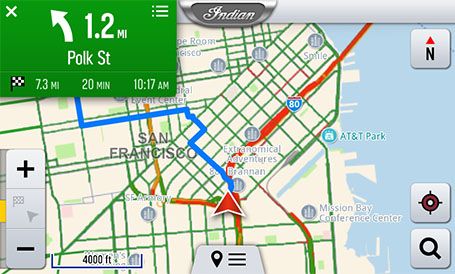 Make your rides more relaxing by eliminating frustrating traffic backups. RIDE COMMAND+ traffic overlay lets you see the issues before you get there and adapt on the fly.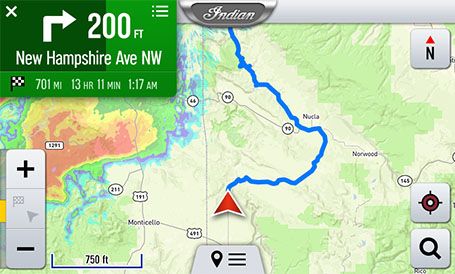 Being dry and safe makes any ride better. RIDE COMMAND weather overlay lets you see what is happening on the road ahead and reroute to avoid the weather.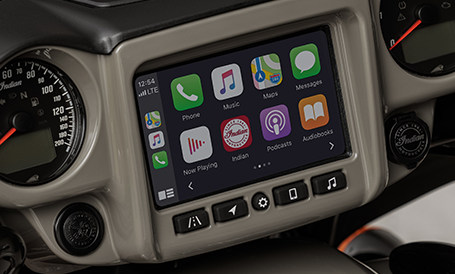 iPhone® users can easily access Apple Music®, Maps, send messages with Siri and more through the 7 in display powered by RIDE COMMAND and a supported Bluetooth® headset (not included) - all on a user-friendly interface that iPhone users will instantly recognize.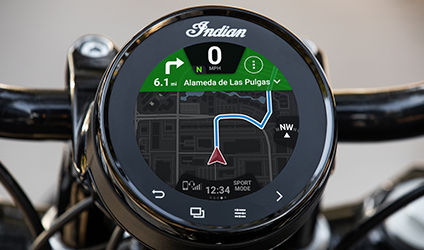 4" Touchscreen Powered By RIDE COMMAND
The 4-inch touchscreen powered by RIDE COMMAND maintains a classic aesthetic by disguising itself as an analog gauge. Use it as a speedo and a tach, but it also provides turn-by-turn navigation (with live traffic and weather), control ride modes, lets you answer and decline calls, and manage your music from any Bluetooth-connected device.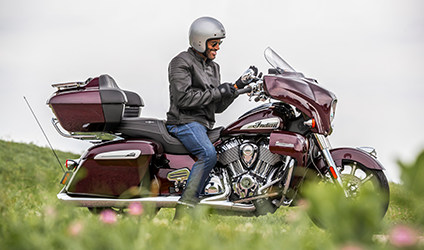 Expanded Bluetooth® device compatability and a faster load time ensure riders spend less time getting connected to their motorcycle and more time on the road.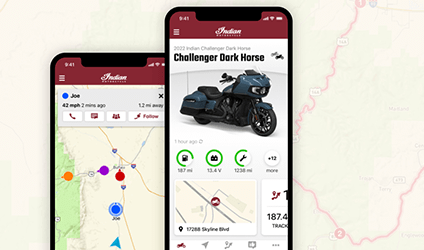 Seamless Integration Across Devices
Get real-time connectivity between your devices and your bike. Download the Indian Motorcycle Ride Command app and visit RideCommand.IndianMotorcycle.com to unlock features like ride planning and ride tracking. You can also check vehicle data, view service recommendations and log maintenance remotely on your mobile device.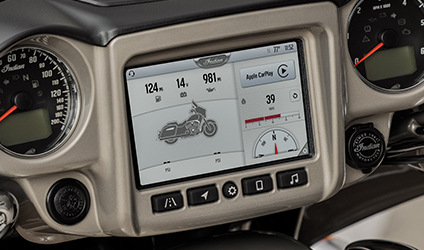 Keep your eyes on the road and everything else. You can monitor individual tire pressure, fuel range, miles to your next oil change, current altitude, average fuel economy, heading, Bluetooth® status, and much more.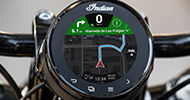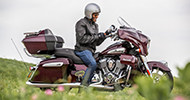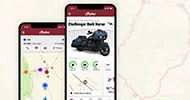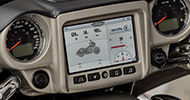 The Largest Touchscreen On Two Wheels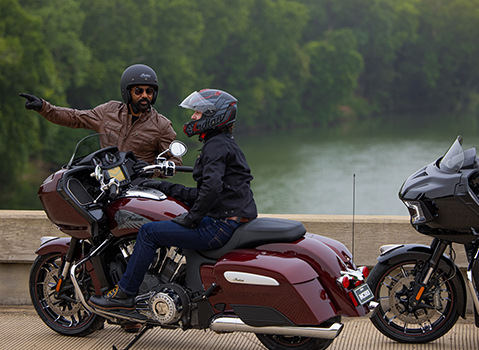 Our 7-inch display is the largest available on a motorcycle. The bright, high-resolution screen is positioned close to you, making it easy to read—and reach. And thanks to glove-touch technology, you can quickly get to what you want. Gloves on, or gloves off.
As Easy to Use as it is to Envy
Looking for more answers? These videos should cover it.
Connected Services on 2020 Indian Motorcycle Ride Command
Learn how to use the new connected services, including how to use the enhanced destination search, realtime map overlays, and the enhanced Ride Command account connection.
Customizable Rider Screens on Indian Motorcycle Ride Command
Learn how to customize your rider screens to display the information you want to see!
System Settings Overview on Indian Motorcycle Ride Command
Learn how to easily adjust the Ride Command display settings to best fit your needs.
The new Ride Command update allows you to plan a ride on your desktop, push the ride to your smartphone app and Bluetooth the ride to your bike. Check out how.
Update your Ride Command software to keep track of your Indian Motorcycle fuel level, oil life, tire pressure and battery charge.
The Indian Motorcycle Ride Command system allows you to easily pair your device to stream your favorite riding music.
Impressed with Ride Command now? Wait till you experience it in person.
Indian Motorcycle Ride Command Updates