The Indian Chief. Inspiration by design. The rest is up to you.
Motorcycle culture has always been about self-expression. From the bobbers of the '50s and '60s, straight through to the bare-bones choppers of the '70s. These bikes were the ultimate expressions of personal identity; handcrafted in steel with one-of-a-kind custom touches and eye-popping paint.
The reimagined Indian Chief models pay homage to that simpler time and individualism, providing the perfect canvas for self-expression. The flowing lines of its steel-tube frame and lean, mean aesthetic beg you to personalize it however the spirit moves you.
Inspiration by design. The rest is up to you. Make it your own.
The Carey Hart Custom Indian Chief
Introducing the Carey Hart custom Indian Chief built for Jon Bernthal: an aggressive performance cruiser in a (somewhat) subtle package.
Risers, extended and revalved suspension, upgraded braking components, a custom 2-into-1 exhuast, and custom paint are just a few of the custom-tailored touches.
The Go Takamine custom Indian Chief
Introducing the Go Takamine Bratstyle custom Indian Chief built for Nicholas Hoult. Vintage-inspired featuring a rigid rear end, Bratstyle bars and brass risers, a relocated digital speedometer, narrowed tank, leather spring-loaded solo seat, rear fender from a 1937 Ford, fabricated low-profile sissy bar, custom cone exhaust, and a whole lot more...
The Paul Cox and Keino Sasaki custom Indian Chief
After 15 years, Paul and Keino were reunited to bring their signature East Coast style to the all-new Indian Chief. Featuring a girdraulic front end, hand fabricated tank coated in a custom Soylent Green metal flake, a hand tooled a leather saddle, jockey shift conversion, a swing arm mounted heavy gauge fender, a vintage front fender light turned tail light, and a custom drag bars on 6" risers.
Indian Motorcycle has partnered with three renowned V-twin customizers for three builds to showcase the limitless personalization possibilities inherent to the Indian Chief platform. Each customizer will produce totally unique interpretations of the iconic motorcycle; including freestyle motocross legend Carey Hart, former Indian Larry tandem, Paul Cox and Keino Sasaki, and creator of "Bratstyle," Go Takamine.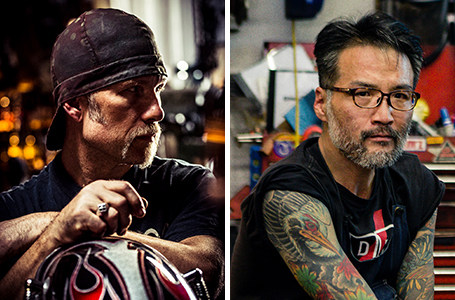 Paul Cox and Keino Sasaki played an instrumental role in defining Indian Larry's signature East Coast chopper style, marked by a combination of ornate hand-craftsmanship and no-nonsense muscle. From mutated sheet metal, to handcrafted leather, to masterful pinstripes and paint, the two builders formed one of the most revered tandems in custom motorcycle history. Now after 15 years, Indian Motorcycle is reuniting them to bring their signature East Coast style to the all-new Indian Chief.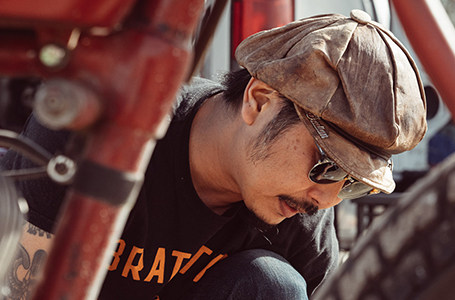 Go Takamine defined an entire style of customs and in doing so, created the unmistakable @bratstyle (go ahead, google Brat Style) aesthetic. Bratstyle is much more than reviving cherished vintage bikes or transforming modern machines into vintage-inspired nods to the past. It's an attitude and a lifestyle of doing things the way they did in the glory days. Now Go will unleash Bratstyle on the all-new Indian Chief.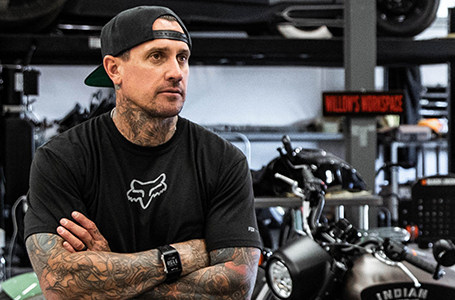 Carey Hart is a SX racer-turned FMX icon that inspired a generation of riders with his all-or-nothing style. Today, he brings the same fearless, boundary-breaking mentality that marked his motocross career, to the performance-inspired V-twin beasts he builds for the street. While the all-new Indian Chief takes inspiration from the past, Carey will look to push it even further into the future.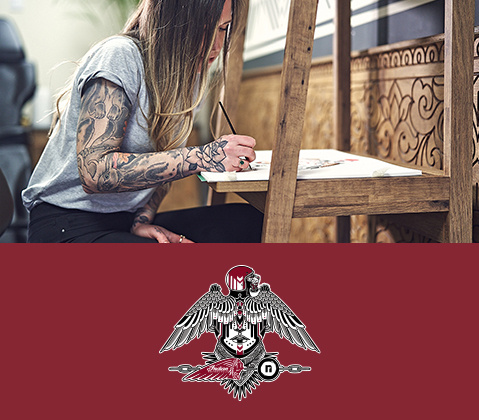 For Perry Sands, his passion for customization began with the Indian Chief. Today, his son, Roland Sands, carries the torch in many ways. Now, the two work to bring back a very special piece of the family's history. With the help of Kiwi Mike, the Sands family works to bring a pivotal heirloom back to life; Perry's first custom build, based on a 1946 Indian Chief. Perry's story sets the stage for the new 2022 Indian Chief, as within its DNA is a bare-bones platform waiting for those with the will to do so, to tear it down and build it up again.
A true reflection of style and creativity, living proof that even the most wild ideas can become reality.
Motocross legend and customizer, Carey Hart reworked and modded an Indian Challenger, revealing it at The One Show in Portland. He wanted to keep this bike race inspired, so added Beringer Brakes master and clutch levers, Rizoma single mirrors, and his signature ODI v-twin grips. Carey also added a titanium pie cut exhaust, a nod to the old factory race bikes, and a fresh paint job to make it shine.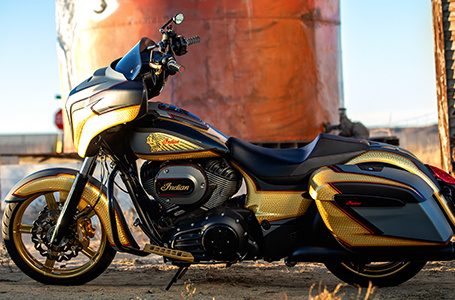 Chieftain Dark Horse customized by Carey Hart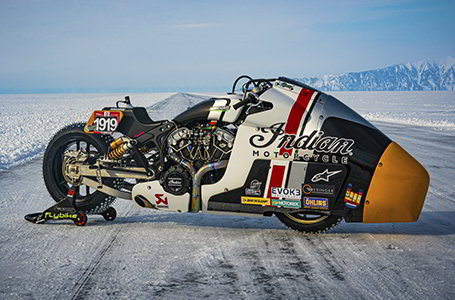 Scout customized by Brice Hennebert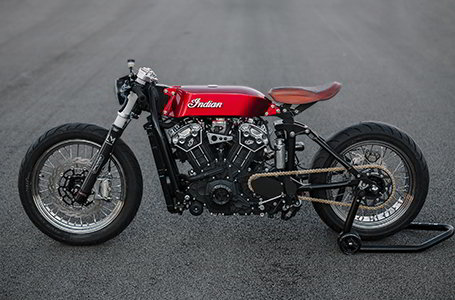 Scout Bobber customized by Luuc Muis
Previous Custom Build Programs
Builder's across the world have showcased their craftmanship for competitions, charity events, or simply just for fun. Check out some of the custom build programs that have happened throughout the years.