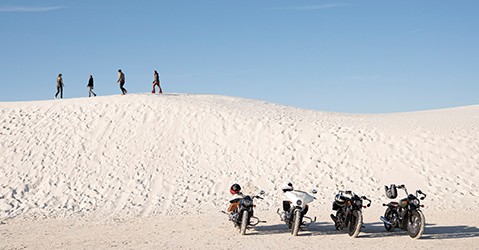 Indian Motorcycle and Women Riders
IF YOU'RE ON TWO WHEELS, YOU'RE WITH US
International Female Ride Day
As female participation in motorcycling has continued to grow over the last decade, Indian Motorcycle is once again celebrating International Female Ride Day (IFRD) to help spotlight women riders in the powersports arena and further celebrate and accelerate the participation of women in motorcycling. The 16th annual IFRD is scheduled for May 7, when women in over 120 countries ride their motorcycles in unity and support of the female riding community. This year's theme, #FocusFemaleForward, emphasizes the goals of IFRD, including encouraging new women to ride while shining a light on the diverse participation of women already engaging in motorcycling.
Daytona Bike Week Women's Event
Connecting with Women Riders at Daytona Bike Week
The Indian Motorcycle team hosted a first-ever brunch and demo event exclusively for women riders in partnership with Indian Motorcycle of Daytona Beach. The goal of the event was to provide an exclusive space to experience the Indian Motorcycle brand, connect with other women riders and staff, and experience our full range of Indian Motorcycle models and riding gear. More than 20 women participated, some of whom had never ridden an Indian Motorcycle before. Attendees included members of the Medicine Wheel Ride motorcycle club, Indian Motorcycle ambassador Ana Simmons as well as media representatives from Biker Belles and Women Riders Now. It's important to know that women are interested and highly engaged with the full Indian Motorcycle brand. "The feedback from the group was extremely positive," said Mallory Apperson, customer growth manager for Indian Motorcycle.

Empowersports Women's Riding Council
The Empowersports Women's Riding Council exists to uplift the passions that fuel women and put forth deliberate efforts for increased representation, inclusion and participation of women in powersports. The council joins women from all backgrounds and riding terrains as respected representatives of their sports, who will meet regularly with Indian Motorcycle leaders to discuss breaking down barriers including increasing diverse female representation, vehicle and gear considerations, safety practices, combating biases and demystifying the sport for more women.