INTRODUCING THE CUSTOM HILLCLIMB INDIAN® SCOUT®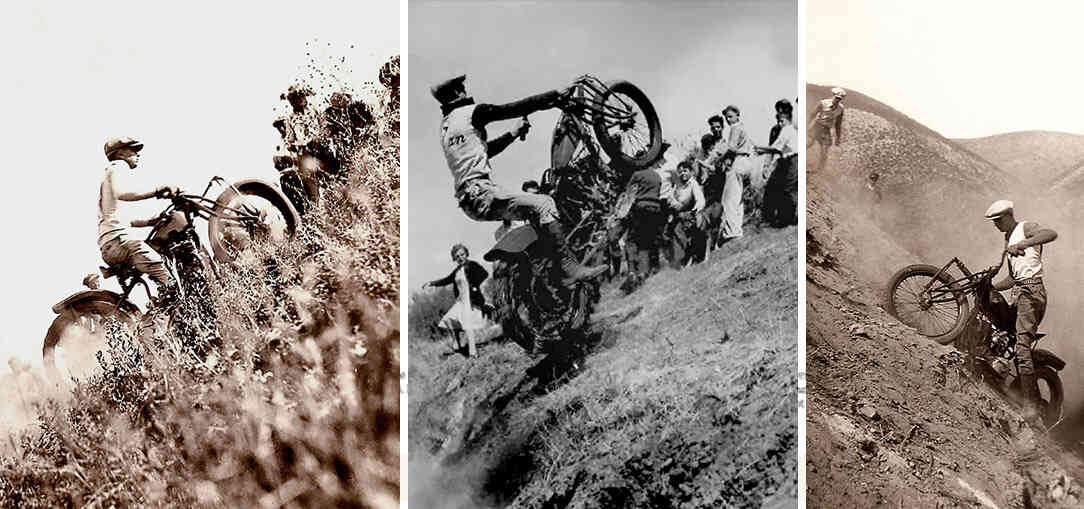 ABOUT THE BUILDERS
Racing has been an integral part of the Sturgis motorcycle rally since it was founded by "Pappy" Hoel and the Jackpine Gypsies in 1938. In 1961 the racing card expanded to include the world famous hill climb.
For the 75th anniversary of Sturgis Indian Motorcycle® commissioned the guys at Indianmotorcycles.net to take a 2015 Indian® Scout® and build a tribute bike to the hill climb racers of the past. What started a concept on paper would soon become a reality.
SWINGARM AND SUSPENSION
The first major change to the bike was a hand crafted custom swingarm by BTR Moto that was stretched a full 10" over the stock length. Next, Fox supplied the project with a custom built, remote reservoir shock setup to provide the rear suspension with the travel it would need to take on the hill.
1920 SOLO SADDLE
The new 1920 Solo Saddle from Genuine Indian Motorcycle® Accessories features a throwback design to the seat on the very first Scout® and was a perfect fit for the Black Hills Beast project. Covered in genuine leather and featuring an innovative cantilevered design it gives any Indian® Scout® a custom, heritage inspired look.
WHEELS AND TIRES
A unique set of tires would be required to guide the Black Hills Beast up the hill. The rear tire is directly from a US Army Willy's Jeep while the front tire is a classic Firestone. Black laced rims from the Genuine Indian Motorcycle® Accessories catalog finished off the classic look. Finally, a tire chain was hand built for the rear tire to help propel the Black Hills Beast forward in the loose dirt.
HERITAGE INSPIRED PAINT
Artist Sean Starr of Starr Studios designed and hand lettered the custom paint scheme which found its inspiration in the original Indian® hill climbers that raised the sport to iconic status among motorcycle racing enthusiasts.
AFTERMARKET PARTNERS
From front to back the Black Hills Beast could not have come together without the help of some fantastic aftermarket partners. Many thanks to: RPW USA (exhaust) Aeromach (floorboards) Traxxion (suspension cartridges) Dobeck Performance (EJK Gen 3 Controller) Zippers Performance (Chain Drive) Richochet Customs (powder coating)
THE SCOUT® INSPIRED CUSTOM SERIES IS A CHRONOLOGY OF THE RICH, CENTURY-LONG HISTORY OF THE INDIAN® SCOUT® MOTORCYCLE
Throughout 2015, Indian Motorcycle® will unveil a series of custom Indian® Scouts® designed and crafted by some of America's leading custom bike builders — each designed to celebrate an important Indian® Scout® milestone or achievement since its debut in 1920. Each of the custom Scouts® will be accompanied by vignettes to share the legacy of the Indian® Scout®.
See the rest of the custom Scout® series