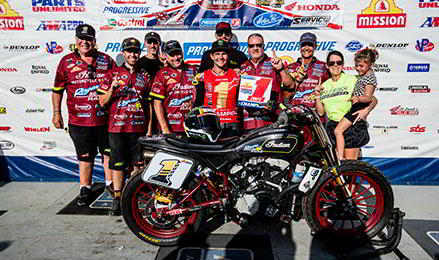 Jared Mees Wins Historic Ninth-Career Grand National Championship at Springfield Mile, Ties Scottie Parker's All-Time Record
Mees Takes First & Second at Springfield Mile Doubleheader, Secures Seventh-Consecutive American Flat Track SuperTwins Championship for Indian Motorcycle Racing & the Indian FTR750
MINNEAPOLIS (September 5, 2023) - Before the 2023 Progressive American Flat Track season began, the prospect of tying Scottie Parker's all-time career championship record loomed large. Despite fierce competition against the ultra-consistent, young talent of Dallas Daniels, Jared Mees reminded everyone that he's still at the top of his game. With each checkered flag, Mees and his Indian FTR750 inched closer and closer to his career goal of tying Scottie Parker's historic all-time championship record.
Through more than three-quarters of the season, Mees trailed Daniels, as back-to-back wins to start the season and a podium streak of 13 races kept Daniels at the top of the leaderboard. Mees had a strong run for himself, winning six of eight races between the Senoia Short Track and the Orange County Half-Mile and securing a 14-race podium streak starting at the Dallas Half-Mile until the season's finale at Springfield Mile II. Mees finished the season with nine wins. In addition to 2023 marking Mees' ninth-career championship, it also was a historic seven-consecutive AFT SuperTwins championships for Indian Motorcycle Racing and the FTR750.
"It's what you wake up for every day. It's what you train for," said Mees, "Hats off to Scottie Parker – that's the guy that keeps me going. He kept me going year after year, race after race. He's still the best in my book, and it's an honor to match something that he did."
This year's championship marked Mees' fifth aboard the FTR750 – winning titles in 2017, 2018, 2021, 2022 and 2023. Briar Bauman owns the FTR750's other titles, winning in 2019 and 2020 as a member of the Indian Wrecking Crew.
"Since our return to professional flat track racing in 2017, there has been no greater pairing in the sport than Jared Mees and the Indian FTR750," said Gary Gray, Vice President – Racing, Service and Technology for Indian Motorcycle. "There's no questioning Jared's drive and dedication, as he's truly one of the hardest working athletes in the paddock but jumping on an FTR750 proved to be a major unlock in his career, as he's captured five of his nine career titles aboard that bike."
For more information on Indian Motorcycle Racing, visit IndianMotorcycle.com and follow along on Facebook, X and Instagram.
ABOUT INDIAN MOTORCYCLE

®




Indian Motorcycle Company is America's First Motorcycle Company®. Founded in 1901, Indian Motorcycle has won the hearts of motorcyclists around the world and earned distinction as one of America's most legendary and iconic brands through unrivaled racing dominance, engineering prowess and countless innovations and industry firsts. Today that heritage and passion is reignited under new brand stewardship. To learn more, please visit www.indianmotorcycle.com.
INDIAN and INDIAN MOTORCYCLE are registered trademarks of Indian Motorcycle International, LLC. Always wear a helmet, protective clothing and eyewear and insist your passenger does the same. Ride within the limits of the law and your own abilities. Read, understand and follow your owner's manual. Never ride under the influence of drugs or alcohol.
MEDIA CONTACT
Alex Caswell; The Brand Amp
IMCPR@thebrandamp.com; (714) 401-4079