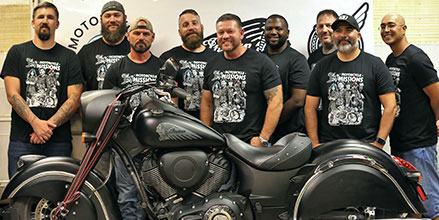 Indian Motorcycle & Motorcycle Missions Announce Texas-sized "Motorcycle Therapy" Build Off
Non-Profit Organization Pins Austin Vs. Dallas in Competition to Benefit Veterans and First Responders Suffering From Post-Traumatic Stress Disorder
Austin, TX & Minneapols, MN (February 21, 2019) – Indian Motorcycle, America's first motorcycle company, and Motorcycle Missions, a non-profit organization that helps veterans and first responders find hope and healing through motorcycle therapy, today announced a motorcycle build-off competition between two groups of veterans and first responders in Dallas and Austin, Texas. The two teams will each design and build a custom Indian Chief Dark Horse to raise money for Motorcycle Missions.
Each team consists of members who have formerly served in the military or as first responders, including several branches of the U.S. military and even local Austin and Dallas police and fire departments, for as many as three decades. Though each individual's story is unique, these groups of heroes were brought together by their shared passion of motorcycles to find healing through this common thread.
"Whether riding or wrenching, Motorcycle Missions bring veterans and first responders together as they work towards one common goal. The trials and tribulations, camaraderie, and life-long friendships are what 'motorcycle therapy' is all about," said Krystal Hess, Motorcycle Missions Founder. "If we can help these heroes get back to living healthy, joyful lives, while instilling them with a passion for motorcycles, we have fulfilled our mission."
Each team's custom Indian Chief Dark Horse will be revealed on Friday, April 12 at John Paul DeJorias and Gary Spellman 17th annual Peace Love Happiness charity weekend benefiting The 100 Club of Central Texas. The 100 Club is devoted to providing immediate financial and emotional assistance to the families of first responders who have been injured or killed in the line of duty. On Saturday, April 13, fans can visit Motorcycle Missions' and Indian Motorcycle's Instagram and Facebook channels to vote for their favorite and help crown a winner. Each custom bike will then make its way to the legendary Sturgis Motorcycle Rally to be auctioned off on Tuesday, August 6, at the Deadwood Mountain Grand Hotel and Casino, with all proceeds benefitting Motorcycle Missions.
"It's pretty amazing how Motorcycle Missions has utilized motorcycles and craftsmanship to improve the lives of countless veterans and first responders, facing the challenges often associated with active duty," said Reid Wilson, Senior Director for Indian Motorcycle. "It truly is an incredible program and we're proud to support Motorcycle Missions and the veterans and first responders who have put their lives on the line to protect our freedoms."


Each team is comprised of members who have distinctive histories of service. Among this year's competitors is Team Dallas' John Arroyo, Army veteran and survivor of the Fort Hood, Texas shooting in 2014. After recovering from severe wounds, Arroyo received the highest non-combat honor for valor. Team Austin will be flanked by Robert Richman, a law enforcement official of over 25 years. Richman specialized in multiple disciplines and has helped patrol crimes such as critical incident hostage negotiations, human-trafficking and child abuse.
For more information or to donate to Motorcycle Missions, visit Motorcycle-Missions.org. To vote for your favorite custom, visit Motorcycle Missions' Instagram and Facebook channels on April 13. To learn more about Indian Motorcycle visit IndianMotorcycle.com and follow along on Facebook, Twitter and Instagram.
ABOUT INDIAN MOTORCYCLE®
Indian Motorcycle Company is America's First Motorcycle Company®. Founded in 1901, Indian Motorcycle has won the hearts of motorcyclists around the world and earned distinction as one of America's most legendary and iconic brands through unrivaled racing dominance, engineering prowess and countless innovations and industry firsts. Today that heritage and passion is reignited under new brand stewardship. To learn more, please visit www.indianmotorcycle.com.
###
MEDIA CONTACT
Jeff Millard
The Brand Amp
714-333-7150