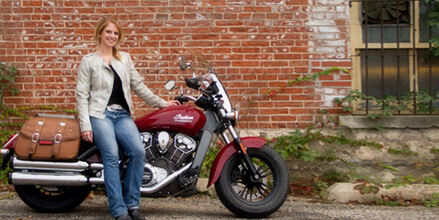 Inspiring Rider
Six years ago, Leah Misch hit rock bottom.
Six years ago, Leah Misch hit rock bottom. She was morbidly obese and had just escaped a horribly abusive relationship (her ex-boyfriend is currently in prison). She was miserable.


Yet she was a survivor, and she decided to turn her life around. She opened a notebook and created a bucket list of goals. The list included learning to ride a motorcycle and running a marathon. To inspire her physical transformation, she created "Team You Go Girl" to encourage people – starting with herself – to exercise at least 30 minutes a day.


Fast forward to 2016. Leah, now 30, is 90 pounds lighter and is lean and fit. She has run eight marathons so far, is enjoying her work as an independent nurse and health coach, and has ridden over 21,000 miles on her 2015 Indian® Scout®. The notebook? She still has it, and it's loaded with inspirational quotations and the ever-changing bucket list.


During her personal transformation, Leah got her motorcycle license and fell in love with riding. In 2014, she rode her Suzuki Boulevard® with its single-cylinder 650cc engine to the Sturgis® rally, where she took a life-changing Indian Scout demo ride. "I remember getting on the bike and thinking oh, I want to ride this bike home," she laughed. "I loved the Scout."


She bought her Indian Scout in June 2015, the same year her job changed so she could work from any remote location. That flexibility fueled a summer of riding. She rode from Wisconsin to Vail, Colorado, to be a bridesmaid in a friend's wedding (she shipped her dress), and she kept riding. She and "Scout" (the bike's nickname) were on the road for 47 days last summer, visited 17 states, and logged over 10,000 miles.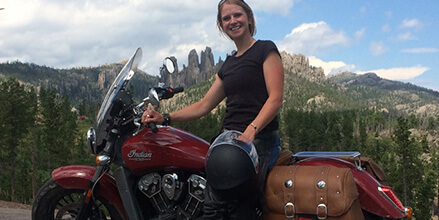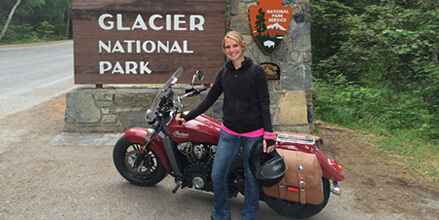 "I hit all the Western states last year, and several out East this year," she said. "I've ridden to 29 states so far, and my goal is to get to all 50 states and see the sun rise or set."


Every mile she rides or runs enriches her. "There's some kind of therapy to being out in nature on a motorcycle," she said, "and also in running."


She and her bike have a special relationship. "I really like the Scout and it fits me perfectly for who I am. It's got class and character. It fits my style. It's got a lot of history to it, too… People laugh when I say 'Scout and I.' They think I'm traveling with somebody, but no, it's me and my motorcycle. They'll say, 'Where's Scout?' Well, it's my motorcycle."


This summer she visited the Indian Motorcycle® final assembly plant in Spirit Lake, Iowa, where she spoke to employees about her riding and her escape from domestic abuse.


"Sharing my story has meant something to people I've met along the way. I feel like there's purpose to my story, and I'm glad now I can share it. There's got to be something good that comes out of this," she said.


She welcomes the opportunity to speak to groups so she can inform and inspire with her story. She created a GoFundMe page to underwrite the costs of traveling to share the message of personal growth, escaping abusive relationships, and improving physical health.


Today, Leah Misch's life is filled with riding, running, and inspiring. She is living proof that you can lift yourself up from rock bottom.