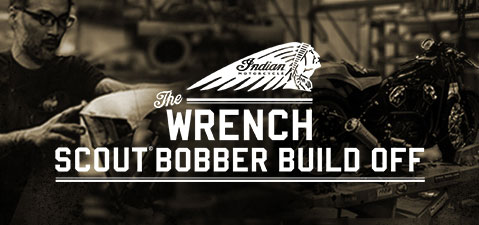 Meet the Winner — Alfredo Juarez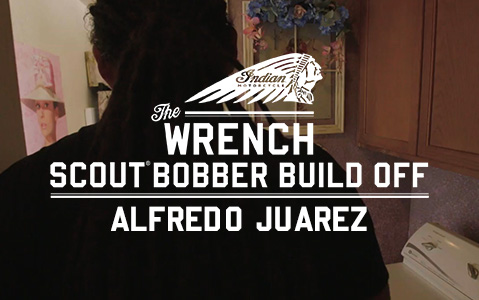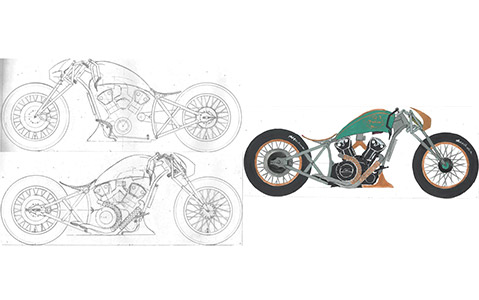 A crazy cool concept from a unique contestant.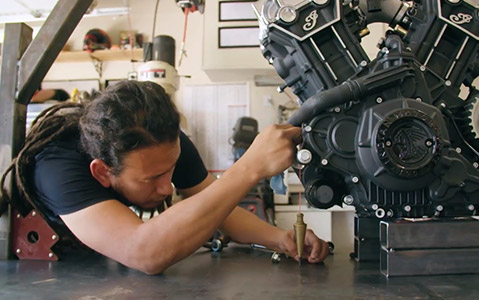 Meet NASA engineer and The Wrench: Scout Bobber Build-Off finalist Alfredo Juarez
We caught up with the finalist to talk motorcycles.
About the builder
From the moment we saw Alfredo's drawing, we could tell he was a very unique contestant. Drawn to scale with measurements he took from a Scout at a local dealership and a picture of the engine, the concept has style and flow but also the engineering and mechanical aspects that only a real builder would include. In Fred's words "I am definitely not a paper engineer. I can turn a wrench. I've got the gear, the skills, the experience, knowledge, drive and the work ethic to get this done."
When he was in high school, Fred got a two-stroke dirt bike—something that would just be a fun toy for most people, but it changed Fred's life. He started taking auto shop classes to help understand the inner workings of his engine, and it motivated him through school to be on time and get good marks. He wanted to be a motorcycle mechanic, but his shop teacher saw the same rare skill we saw in his design and told him, "You should be designing them, not fixing them." And so his journey to become and engineer began.
When he started college, he bought a MIG welder and got to fabricating, starting with the making tools he would need to shape sheet metal and bend tube. After school, he would work on building roll cages and fixing banged up muscle cars until he finished his degree and was offered a job as a high performance machinist. Once again acting on the recommendation of a teacher who saw his potential, he turned down the job and went on to pursue his master's degree. He bought a TIG welder, which led to the purchase of a mill, then a lathe. His fabrication got better, tighter and more precise.
It was in these years he had the creative freedom to really explore the art of design, while pursuing his education. When he finally got his degree, he was offered a job running flammability tests for NASA, which he took and has been at to this day. While his build seems incredibly ambitious in the short timeline, his work at NASA meeting harsh deadlines and his lifelong passion for motorcycles, engineering and fabrication, have made him ready for the task.