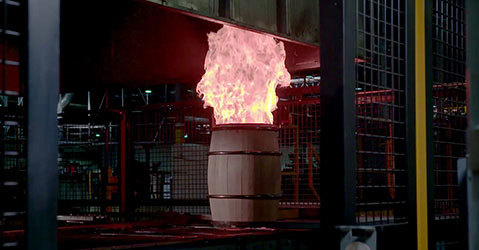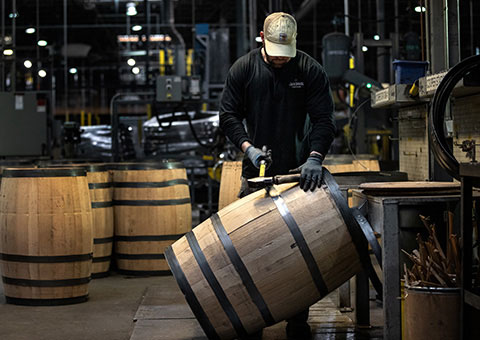 The Inspiration
Jack Daniel's® Single Barrel Select
The Jack Daniel's Limited Edition Indian Springfield Dark Horse draws its design inspiration from Jack Daniel's Single Barrel Select, the brand's finely-crafted super-premium whiskey offering. Jack Daniel's Single Barrel comes from select barrelhouses at the Jack Daniel Distillery in Lynchburg, TN. Within those barrelhouses, Single Barrel Select barrels are only taken from the top floors where the natural annual temperatures vary the greatest year after year, which help develop the most robust flavor. Jack Daniel's is the only major distillery in the world that produces its own oak barrels by hand by skilled craftsmen, and it is the oak from these barrels that gives Single Barrel Select its distinctive flavor and color. Similarly, each limited-edition Jack Daniel's Indian Springfield Dark Horse is unique and original in its own way, as nearly the entire bike is hand-painted by specialized Indian Motorcycle craftsmen.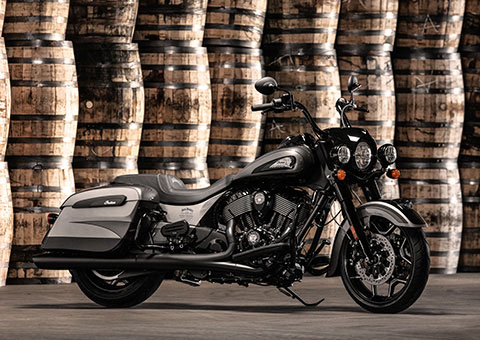 The Bike
Indian Springfield Dark Horse
Starting at $29,999
Exquisite two-tone Heavy Metal Crystal & Thunder Black Vivid Crystal paint scheme with Steel Gray graphics and a Single Barrel Select wood grain finish
Indian Motorcycle's first ever straight-from-the-factory 116 cubic-inch Thunderstroke engine delivering head-snapping power
Edgier, more aggressive styling with newly redesigned slammed saddlebags, 12'' mid-rise ape-hanger handlebars, and custom precision machined wheels
Premium touches including a quick release tinted flare windscreen, end-to-end LED lighting, and gloss black finishes throughout the bike
Custom Jack Daniel's Single Barrel badging, including the Jack Daniel's® ''Bottles and Throttles Don't Mix'' reminder on the front fender
A premium genuine leather seat and tank strap bearing the Jack Daniel's logo
Single Barrel Select engraved rider and passenger floorboards
A one-of-a-kind Montana Silversmith badge engraved with each bike's unique number (#001-#177)
This bike was designed on the 2020 Indian Springfield Dark Horse platform.
The Gift
Custom-Engraved Single Barrel Bottle Decanter
Each Jack Daniel's Limited Edition Indian Springfield Dark Horse will come with a commemorative, wooden Jack Daniel's Single Barrel bottle decanter made out of the same oak barrels used to age Jack Daniel's Single Barrel Select. The holder comes with two custom branded rocks glasses and spot for a bottle of Jack Daniel's Single Barrel, which is padded with the same genuine leather as the motorcycle's seat. Each gift will be custom made and engraved with the owner's name, motorcycle number (#001-#177) and VIN.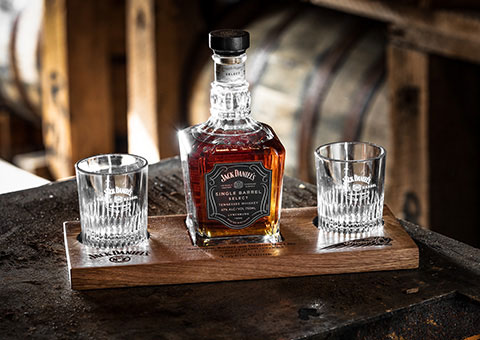 Watch The Process
Follow the creation of the 2019 Jack Daniel's® Limited Edition Indian Springfield Dark Horse from concept to finished product. The highlights have been captured from the perspective of those that made it happen.
See 2019 Jack Daniel's® Limited Edition Indian Springfield Dark Horse In Action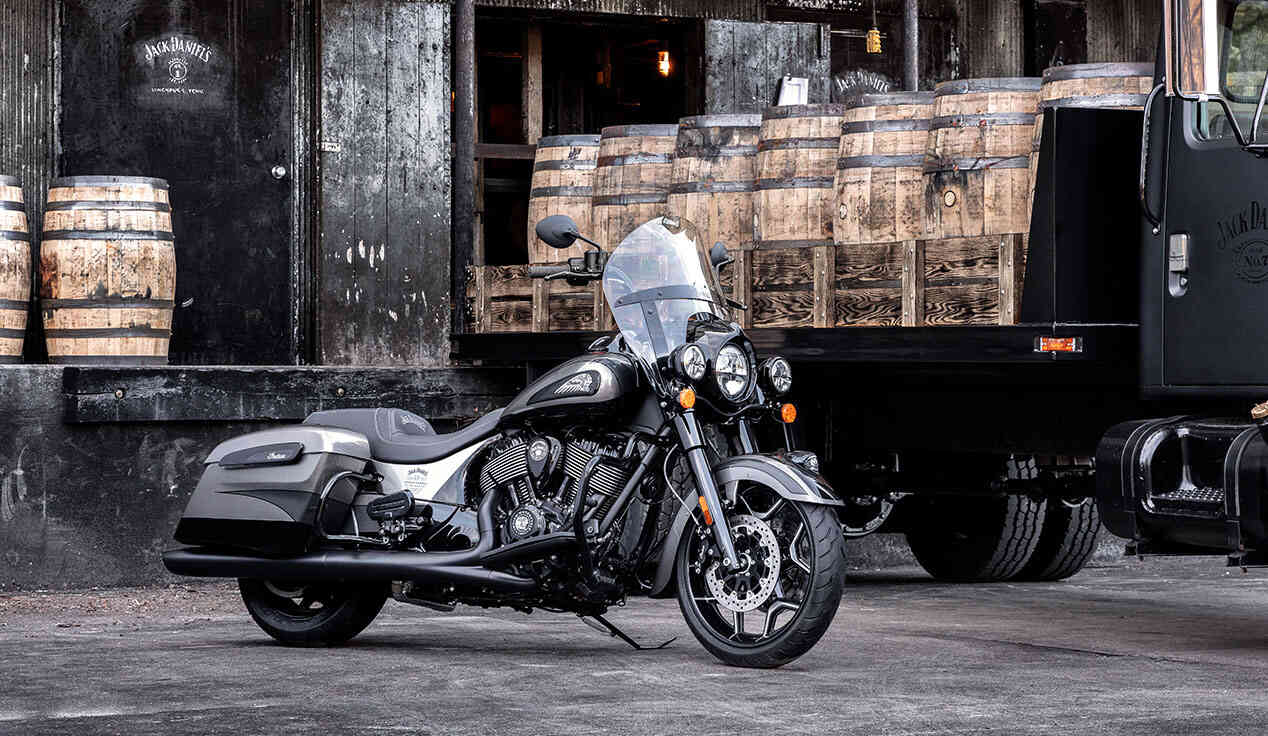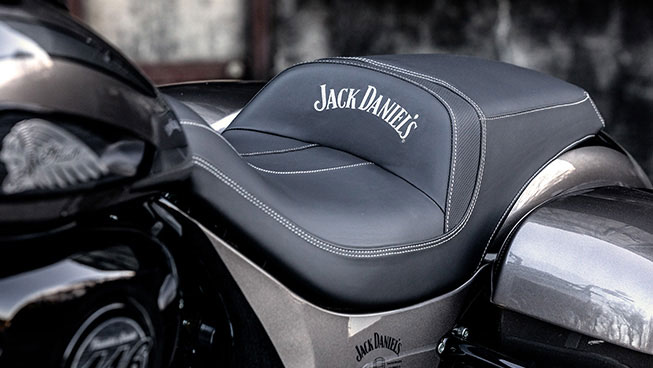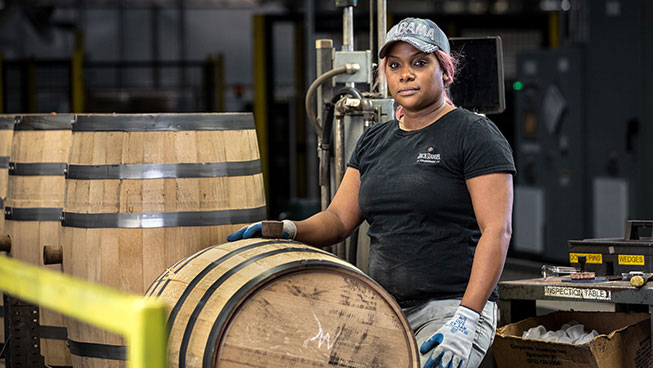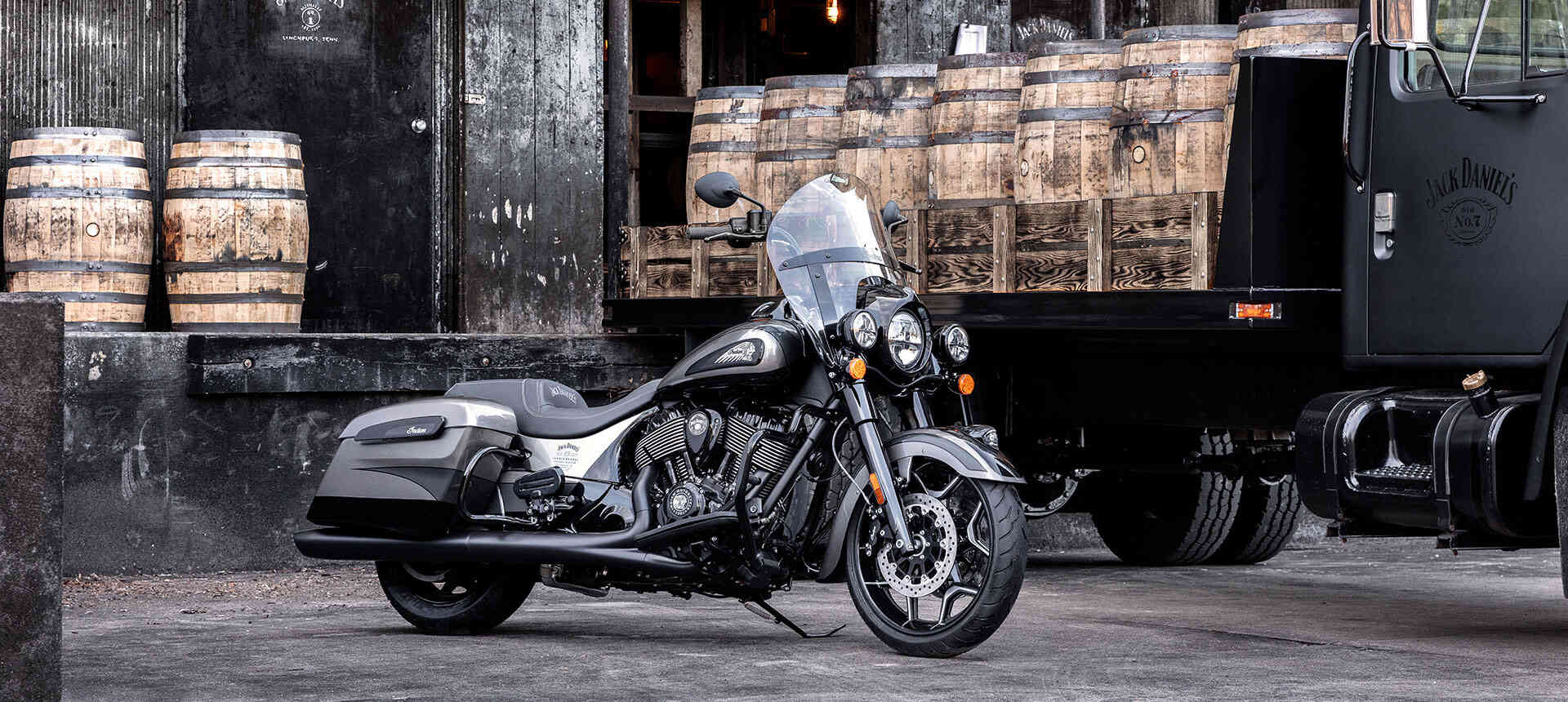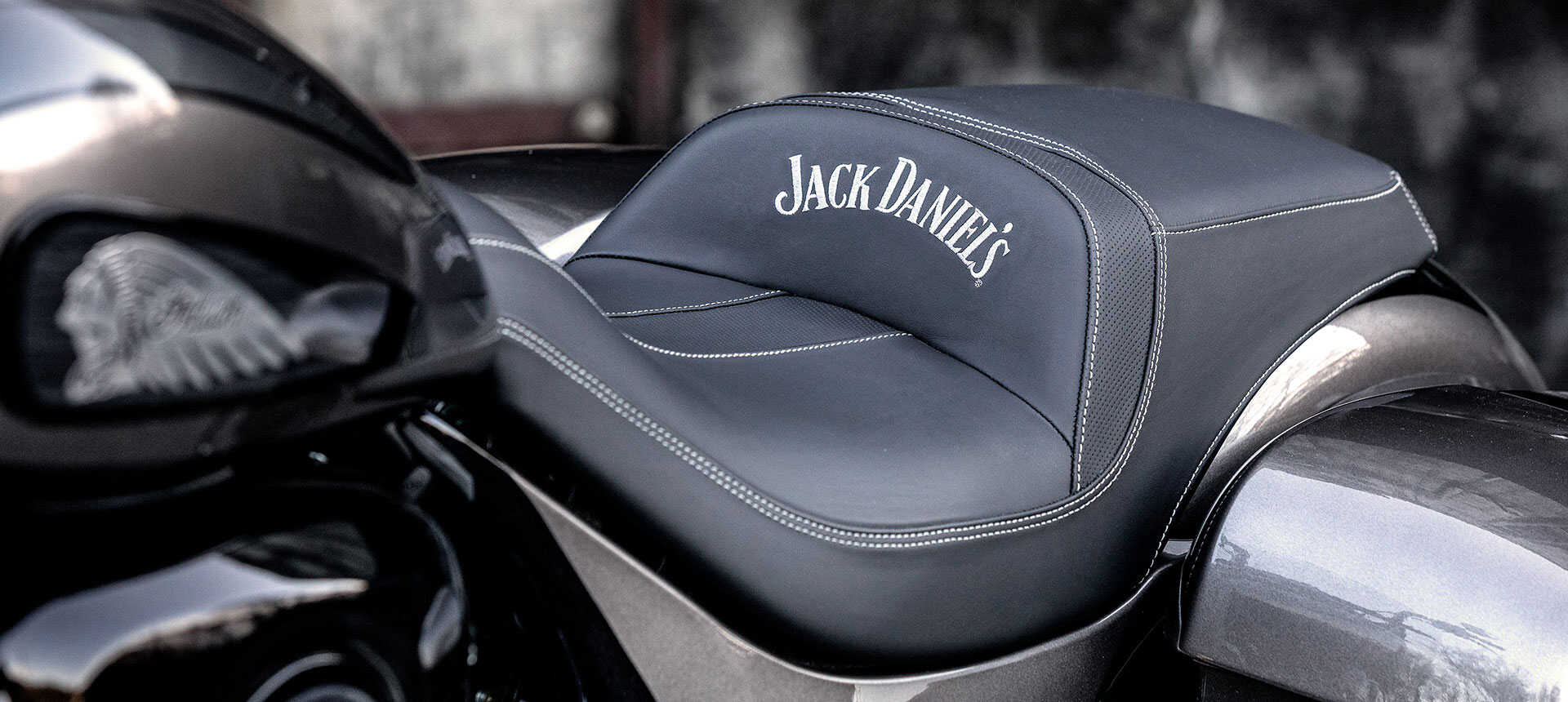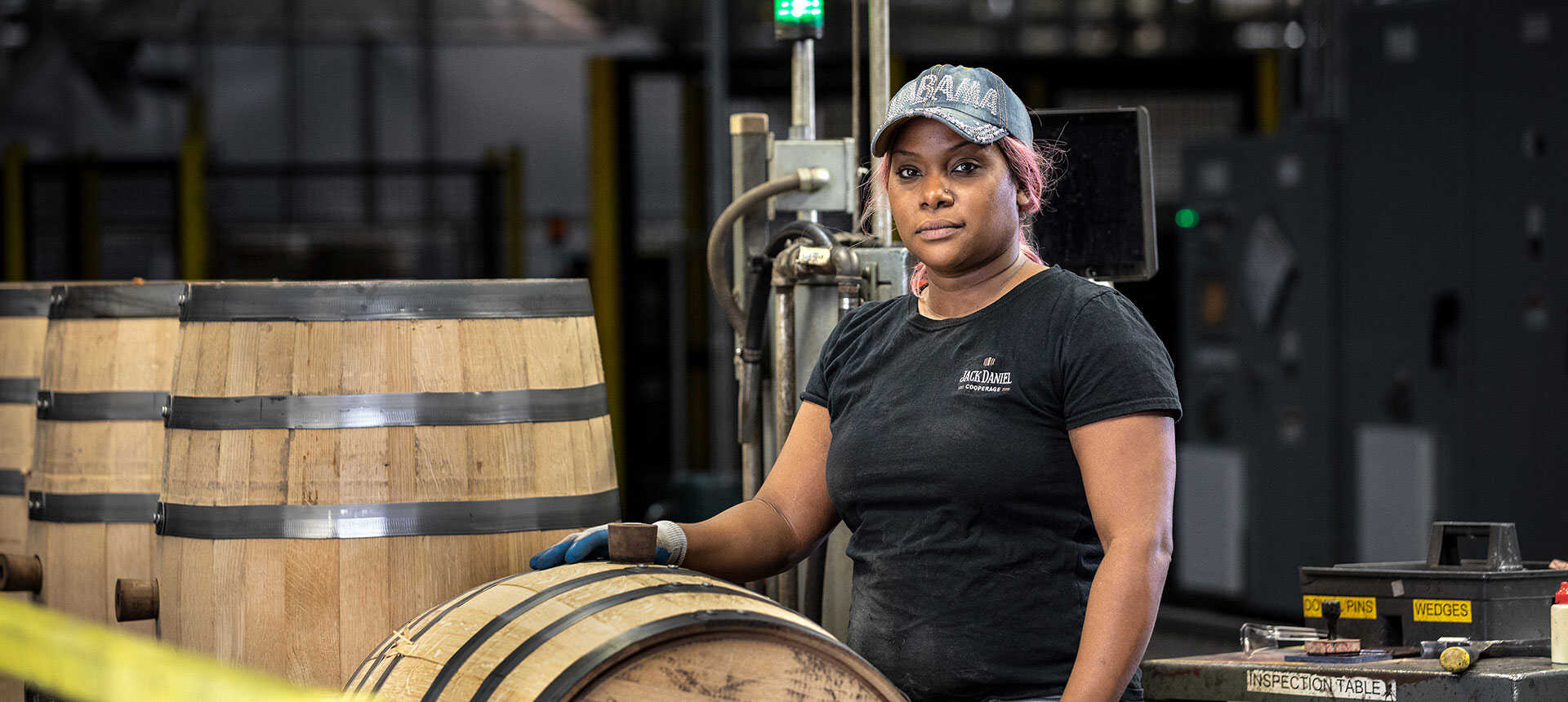 See The Bike That Inspired The Build