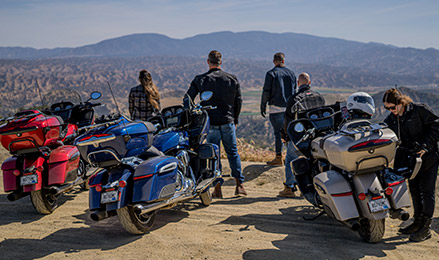 When to Upgrade to a Bigger Motorcycle
&nbsp
There's that moment in time for many motorcyclists where they feel their current bike just isn't fitting their needs anymore. You may not be able to put your finger on the exact reason, but many riders in this transition period begin to eye those bigger bikes. You know, the ones with more comfort features, the upgraded technology package, plus the extra storage in case you wanted to extend your range to a few overnights. So how do you know when it is the right time?
What Is Your Level of Experience?
If you're just a few years into riding, you might want to look at taking an intermediate step before you go big. Newer riders that are transitioning from a bigger motorcycle to a second motorcycle—often switch from a light motorcycle to a more standard, mid-size motorcycle.
If you're an experienced rider, then keep reading. A big bike might be exactly what you are looking for in a new ride. You might also find that you simply want to make some improvements to your current bike, or that you want to completely replace an old, outdated model with a similar size motorcycle that offers new safety, tech and style. There are plenty of ways you could go.
Are Heavier Motorcycles Better?
This is the question many people ask, and of course the answer is really: "It depends". Heavyweight bikes are not for everyone. Your bike style comes down to a matter of functionality, personality and personal preference. With heavier motorcycles there's also the question of: "Can you physically handle it?", but we'll get to more of that later. There are pros and cons on either side. The biggest question is, what's most important to you?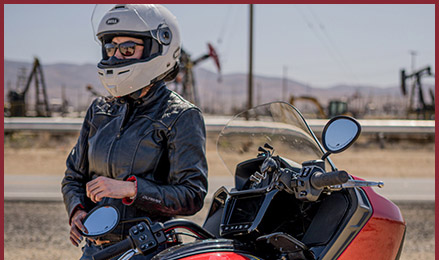 Some pros:
More onboard technology

Enhanced audio

Additional storage for longer trips

Extra comfort features

Less impacted by wind

More room for two people
Some cons:
Heavier to handle
Less agile
Takes more gas
Different riding style
May not feel as sporty
When to Upgrade to a Heavyweight Motorcycle
Making the switch can be a difficult decision. We've established that you'd be gaining some great features, but you also might be changing some of the things you like about riding. Here are a few clear indicators that now is the time for you to make the switch.
You're Looking for More Power From Your Motorcycle
We're not talking insane bursts of speed like those smaller racing bikes. We're talking about confident power to merge, pass and carry an extra passenger. Power that allows you to load up the bike for a few days on the road and not lose any performance. If you're looking to hold your own on the highway and still bring a reliable rumble to a roadside diner, you're probably looking at a heavyweight in your future.

You Want More Features on Your Motorcycle
Let's face it. The more we ride, the more we think about the extras we'd like to have on our next ride. Those could be tech features like keyless ignition, premium audio, plus a touchscreen display with built-in navigation and Apple CarPlay®. You also might look for extra comfort features like heated seats to keep warm on a cool morning and adjustable rear suspension to smooth out the bumps. Bigger bikes can also bring safety extras like ABS brakes for stopping power, LED lights for added visibility and Smart Lean Technology to help you corner like a beast.
You've Outgrown Your Current Motorcycle
Ask yourself: does your current motorcycle still fit your needs? Maybe you're looking to add an extra passenger or want to provide a passenger with more comfort. Maybe you no longer feel comfortable on your bike and want a more relaxed riding style. Or maybe you want something that feels more substantial and has a bigger presence on the road. You can also outgrow your bike physically. You may now have the strength and build to manage a heavyweight bike that you didn't when you were younger. Any of these could be reasons to make an upgrade.
Your Motorcycle Riding Plans Have Changed
Finally, a heavyweight bike might be in order if your riding plans have changed. If you bought a motorcycle for fun or commuting and now find yourself wanting to take longer and longer trips, a bigger bike can help. Touring motorcycles offer the extra storage you need to spend multiple nights away, the extra seat for a passenger to come along and the added comfort enhancements to make longer trips much more manageable. So, if you suddenly find yourself wanting to take vacations on your ride, think bigger.
Things to Budget for With a Bigger or Heavier Motorcycle
A bigger bike comes with a lot of benefits, but you'll also want to plan for a few extra expenses. Keep in mind fuel economy on a large bike won't be quite as efficient as on a smaller bike, so be sure to budget for that—especially if you plan longer road trips. Of course, it will still blow the doors off of a car's fuel efficiency. Maintenance on a heavyweight bike can also cost you a little more cash, depending on your usage. And finally, larger motorcycles generally cost a little more than a standard or mid-size bike, so keep that in mind. There are financing options out there to help you manage the cost.
When to Modify Your Motorcycle Rather Than Buy a New One
If after all of that consideration, you decide you want the benefits of a bigger bike but feel it's just not in the budget right now, there are a few things you can do to your current bike to give it a bit more of a big bike vibe. It's cheaper to add accessories or modify your existing bike, as long as it has the frame to take the upgrades. If you own a mid-size bike, consider adding bags, luggage racks, new seats (including passenger backrests), floorboards, fairings and more.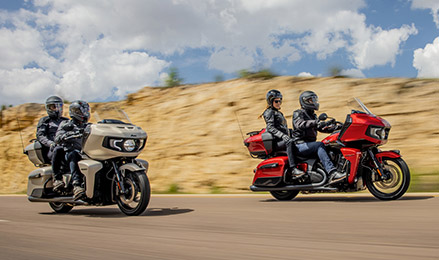 Heavyweight or Not? The Choice Is Ultimately Yours.
When it comes to motorcycles, there are no shortage of options—which is both a benefit and a curse. Just know the right bike is out there waiting for you. It just might take a few decisions on your part about what feels right for the next chapter in your motorcycle journey. If you do go heavyweight, it's an experience unlike any other—with big power, throaty engine, technology upgrades and miles of highway out there just begging to be explored.