INDIAN MOTORCYCLE REVIEWS
Check out reviews for any model below or share your ownership or demo ride experience.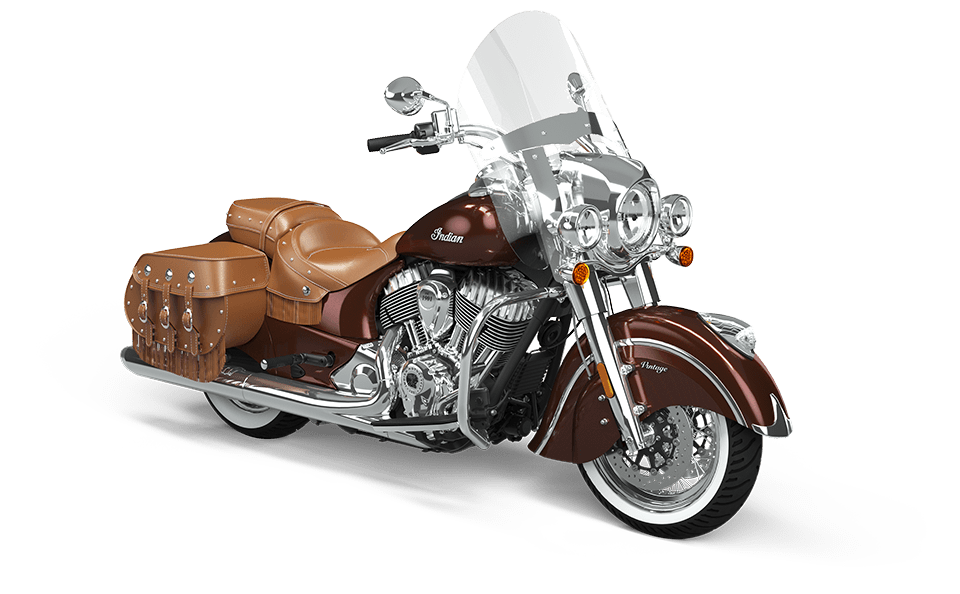 Starting at
$24,499
CA MSRP
2019 Indian Chief Vintage Thunder Black
is rated out of
5
by
603
.
Rated

5

out of

5
by
Snail11
from
Most balanced bike I have ever ridden
1 year old, the ride just keeps getting better the more I ride.
Date published: 2019-07-28
Rated

5

out of

5
by
Bikerdude61
from
Springfield is my ride.
Own a Springfield- tested the chief vintage - great bike but sticking to the Springfield. For me I feel it's more versatile.
Date published: 2019-07-15
Rated

4

out of

5
by
Hondaguy
from
Chief Vintage
On January 20, 2013, I first laid eyes on Indian Motorcycle 's Indian Chief Vintage model at the New York Motorcycle Exhibition. I fell in love with the Willow Green and Cream paint, the tan leather fringe seat and saddlebags, and the acre of chrome. Today, thanks to Brookfield Indian's Demo Days , I finally got a chance to ride one! What fun! My first ride on a bike different from my own in 18 years! Our group ride (16 riders) went around beautiful Candlewood Lake in Danbury and we got up to highway cruising speed on the way back. The big V-twin engine just kept sending good vibrations through the (very comfortable!) seat and handlebars the whole time. Scariest moment? Finding the brake pedal before we got to the first stop light!!
Date published: 2019-07-13
Rated

5

out of

5
by
Jody63
from
Custom Vintage Stage I
Been as excellent as my previous 2016 Custom Vintage.
Date published: 2019-06-26
Rated

5

out of

5
by
Michelle
from
Pretty bike, nice ride
I was a passenger and felt very comfortable with the way the bike handled and thought the bike balanced well and had plenty of power. The driver mentioned that it handled best of all the bikes we rode in the demo. The driver also mentioned that gear selection was very forgiving. We liked this bike best. Aesthetically very pleasing to me. I love the willow green and cream paint scheme with the brown leather.
Date published: 2019-06-23
Rated

5

out of

5
by
lucky george
from
my other love
had it 3 years now, never get tired of the compliments. 16000 miles with only routine maintenance. best dealer experience ever, mom's (Foxboro)
Date published: 2019-06-22
Rated

5

out of

5
by
rcally1977
from
LOVE my Chief Vintage!!!
I purchased my 2015 Chief Vintage 4 days ago and have ridden it every day! It's an absolute pleasure to ride. So comfortable and nimble. You don't even realize you're on an 835 lb. bike. Superior balance! I love the Vintage's classic looks, the OG front fender, and the leather. Watch the leather, man! (Dazed and Confused). Not to mention the Thunder Stroke 111 has torque for days!!!! So smooooooth!!! Stops on a dime, too. When I began riding 3 years ago, I fell in love with Indian motorcycles. I like all of them and their individual nuances, but the Vintage was love at first sight. Now, I finally have it and I have to keep pinching myself. Even though I bought it pre-owned, it only had 12,500 miles and is immaculate. I'll be riding this bike for many years to come and enjoying every mile! Well done Indian!
Date published: 2019-06-18
Rated

4

out of

5
by
Kath
from
Retirement Ride
This is the bike I am purchasing in a couple years. I loved the ride and will make time to go ride the Springfield as well. The shift was a little shorter than I thought it would be but the power was awesome!!
Date published: 2019-06-18
Rated

5

out of

5
by
Pete123
from
Smooth ride!
I tried a Chief Vintage in Rouyn-Noranda this weekend. Fantastic ! and smooth ride. Position of rider is high over the road, comfortable seat, nice engine sound, great torque, no vibrations, very smooth ride and looking like the king of the road on top of all that. Wow!
Date published: 2019-06-17
Rated

4

out of

5
by
Mr Glen
from
Vintage Ride
Had a great demo day trying out baggers at Laconia.
Date published: 2019-06-17
Rated

5

out of

5
by
Kruzn
from
Nice ride, good power.
Just test rode a 2019 Vintage. Very nice ride, nimble handling, great power.
Date published: 2019-06-14
Rated

5

out of

5
by
Kimmee
from
LOVE THIS BIKE!
I was so pleased with the demo ride - great opportunity and a long enough route to get a decent feel of this bike. The ride on this Chief is amazing - very plush, yet so responsive with lots of go and excellent whoa! The accessories are great...very happy with my new, lovely "Sadie"!
Date published: 2019-06-14
Rated

5

out of

5
by
unchura
from
Handles nice and got lot of torque
I had it on a demo ride in Americade 2019 and loved bottom torque and sitting comfort. Front brake is weak and useless compared to rear that excellent and do amazing job stopping this bike instantly and confidently. Lot of buffeting above 90mh. No hill shift. Instrumental is hard to read and distract from riding because its location on the tank is down below the vision. Nice quality leather saddle bags and the seat. Lot of shiny chrome that blinds you out on a sunny day.
Date published: 2019-06-09
Rated

5

out of

5
by
Brutza
from
Demo ride
My son and I are both Harley guys but, I must admit I was blow away by the ride and handling of the bike I test drove.. I will definitely be looking at an Indian for my next bike!
Date published: 2019-06-08
Rated

5

out of

5
by
Blumansky
from
Very smooth, powerful and well balanced ride
This bike lived up to everything I wanted it to be. Classy, handles like a dream. Rides smoother than a similar bike I currently ride of the competitions but still shares some of the big, American muscle raw beauty.
Date published: 2019-06-06
Rated

1

out of

5
by
Sttinktim
from
Uncomfortable , poorsuspension , HoT , low power,
I'd ride a scooter before riding one of these. Harley clone
Date published: 2019-06-06
Rated

5

out of

5
by
Boog
from
Manoeverable
Responsive with plenty of power. Touchy throttle in first gear. Perfect cornering.
Date published: 2019-06-05
Rated

5

out of

5
by
AJfray27
from
Great features and great ride.
I haven't purchased it yet but I am considering it.
Date published: 2019-05-18
Rated

4

out of

5
by
DonTwo
from
My Second Indian Demo Ride
After driving the Scout, the higher-powered Vintage 111 was a noticeable improvement. Unfortunately, I soon found that floorboards, rather than pegs, caused problems with accessing both the gear-shift and the rear brake. This resulted in significant handling issues for me, which I expect would be no challenge to most riders. The available list of accessories is most appealing to me, but I must overcome the issue of the floorboards before I pursue a purchase.
Date published: 2019-04-28
Rated

5

out of

5
by
Woody9146S
from
Absolutely beautiful Bike
Was impressed with the power of the Thunderstroke engine. Incredible torque, and lovely sound, both on acceleration and deceleration. Impressive chrome and paint, good handling and the ABS braking is a great feature. Good suspension compliance too.
Date published: 2019-04-25
Rated

3

out of

5
by
unknown
from
I Felt Cramped!
I felt cramped in the saddle. The saddle put much pressure on my lower spine.
Date published: 2019-04-04
Rated

5

out of

5
by
Tabrah
from
Fabulous & Fun
This is my Dream Bike it's beautiful and so much fun to ride
Date published: 2019-04-01
Rated

4

out of

5
by
Jackhammer
from
Nice motorcycle
I went to the Indian demo ride event hoping to ride the new ftr but it was only available as a display because it hasn't officially been released yet so I thought I would like to try the scout but after sitting on a couple decided at 6ft 4 inches tall weighing around 290 I was just built to big to fit the scout so the chief dark horse caught my eye I sat on it perfect fit then I was informed the vintage was the same bike but had a windshield and bags so I rode it the bike handled well had good power and looked fantastic if I just had to find something to complain I'd say the absence of a heel shifter as I have ridden similar bikes in the past which heel toe was a standard feature and not having it on the big Indian naturally I tried to use it a couple times and it wasn't there
Date published: 2019-04-01
Rated

4

out of

5
by
Damian
from
Handles like a smaller bike
Test ride only. It was very comfortable and handled well. However the windshield was very floppy. Not enough support. My Vulcan has a reinforcing strap on back making it stiffer.
Date published: 2019-03-28
Rated

5

out of

5
by
Fuzzy47
from
A smooth, powerful, and performance filled cruiser
I first demoed the Indian Vintage in 2015 when the Thunderstroke 111 was introduced. Since then I have ridden it several times during Daytona Bike Week. It is a marvelous machine with beautiful retro-styling. It is very powerful, yet offers a smooth and comfortable ride. I have ridden most of the Indian line at Daytona, and many are impressive, but the Vintage is my favorite.
Date published: 2019-03-28
Rated

5

out of

5
by
Maverick
from
3 ride modes is nice.
I'm on my 4th Indian. Three were Vintages and one a Chieftain Limited. The Chieftain was better in every way, except looks. The Vintage carries the flag for Indian. The Vintage is a work of art and although not quite as nice as the Chieftain, it's my choice. It handles well in the mountains or flatlands fine. The attention it draws insures you will meet lots of folks along your ride. Love the Vintage.
Date published: 2019-03-07
Rated

5

out of

5
by
Freddy Bear
from
An amazing ride on air.
I bought my 2015 Indian Chief Vintage last Sept 2018 in Ottawa Canada and was completely blown away by the comfort and handling. This is my first American bike and experience with the American trans like the HD, and boy does it ride well. The true feeling of freedom when you take the quick release windshield off for a ride is a great feeling and I haven't done that in a long time. The looks I get from everyone is amazing as its a vintage model and sets out from all others. Thank you Indian :)
Date published: 2019-03-01
Rated

4

out of

5
by
REB1
from
Great bike, but ridiculously high parts prices!
Bought my Vintage 3 years ago; have loved it deeply, but have grown to just as deeply resent getting "robbed" every time I need a part. Check out the cost of the rubber grommet upon which the windshield rests, or the cost of replacing a cracked glass lens on one of the "passing" lamps. You will not believe it. Indian's answer to my constructive criticism of the high parts prices was "We are not responsible for road damage" (Duh!), and "Our parts are priced accordingly for a premium product". I also have a 2017 KTM Super Duke GT and a 2014 BMW R1200RT--both "premium" motorcycles-- and even BMW can't match Indian's price gouging for parts. The experience of buying parts and accessories has been so unpleasant that it is slowing souring me on what was once the "love of my life" (apologies to my wife!).
Date published: 2019-01-28
Rated

4

out of

5
by
texasjim
from
Electrical Problem
Bought this bike new 2016. All of a sudden started having electrical issues. For example all the lights in the dash come on and the speedo goes down to zero while going down the road, and you better not kill it, if you do you will have to reset the ecm to get it started. It has been in the shop 2 times for this issue and still there now. The first time it was in for 5 weeks, been4 weeks this time and no fix yet.
Date published: 2018-12-27
Rated

5

out of

5
by
Frazier
from
Loving it!
Owned a Kaw in the mid 80's and after a 30 year no ride period, I bought a Scout in 8/18 and after 2100 miles I knew I had to go bigger and while at the dealer I seen this baby. After negotiating with "the boss" we agreed on trading the Scout if I kept the same color combo or black and tan. The Vintage is everything we wanted and expected. It's a comfortable ride, the throaty distant rumble of the pipes is like music, it has everything we needed shy of the backrest for us both and the weight makes encountering winds or large vehicles a non-issue now. Keyless is something I really wish hadn't been added as I like the key in the ignition but that is the only thing I would call a minor negative if it's a negative at all. I've received a lot of compliments and the group I ride with use the words "awesome" and beautiful" when they first seen it. I think there's a few HD riders considering "upgrades" as well.
Date published: 2018-11-23
Customer Reviews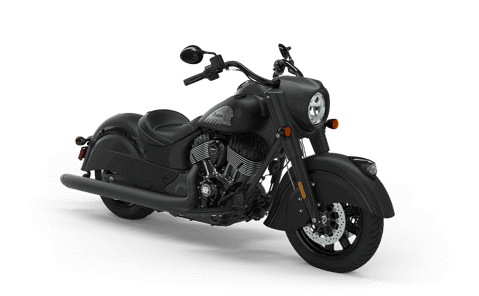 Starting at
$21,999
CA MSRP
2019 Indian Chief Dark Horse Thunder Black Smoke
is rated out of
5
by
316
.
Rated

4

out of

5
by
Frankie
from
Excellent Bike
The seat is very comfortable, Drivability is great, handles awsome, floorboards are comfortable. I am 5'4 and I can flat foot the ground at a red light. I cannot find one fault with this bike, many aftermarket parts and upgrades available
Date published: 2019-04-12
Rated

5

out of

5
by
VICV11B
from
Great over all
This was my first time ever riding an Indian. I was amazed by the way it handle. The power is great and very responsive and over all a great bike. I love how easy it handles turns and curbs. Just a pleasure to ride
Date published: 2019-04-08
Rated

4

out of

5
by
Montesakid
from
Gorgeous Motorcycle
I really enjoyed demoing this bike. I was especially impressed with its slow speed handling. Most other big bikes feel awkward turning around in a parking lot, but the Indian was confidence inspiring. Out on the road it was very smooth and developed power right from idle. No need to rev this bike even to 5000 rpm. If I had any complaint it was the heat from the motor sitting at traffic lights. But, hey! this bike was built for the open road.
Date published: 2019-03-29
Rated

4

out of

5
by
Hound60
from
Nice Bike
Liked everything about it except the floorboard height left me with an uncomfortable riding position
Date published: 2019-03-29
Rated

5

out of

5
by
RS Harley rider
from
Smooth ride
Great motorcycle. Very smooth ride with quick acceleration. Wish toe-heel gear change was standard
Date published: 2019-03-28
Rated

5

out of

5
by
skippy
from
nice ride
nice tide man, needs more bottom end power and toque. comfortable and smooth
Date published: 2019-03-25
Rated

5

out of

5
by
Semper Fi
from
Best Bike I've Ever Owned
I bought this bike back in November. I've always been a Harley rider. I was in the market for a new bike and just couldn't pass up the deal Youngblood PS offered me. I ordered the stage 1 setup with some of the money I saved compared to what I was expecting. Man, it sure has a lot of torque in those lower gears, but there's so much power throughout the range. I can't believe how well it handles...just point and go. It doesn't feel like a 750 lb bike. Everybody at the dealership, especially George and Dakota worked with me on the deal making sure I got just what I wanted. As long as bikes like this are being made I'll never go back to Harley.
Date published: 2018-12-23
Rated

5

out of

5
by
ALilley
from
Amazing Bike and Better Staff!
During a quick family trip to New Mexico my twin brother and I noticed the local Indian dealership had a demo day. Being avid bike enthusests from upstate NY we couldn't pass on the opportunity to experience New Mexico on our favorite means of transportation! The sign up was quick and easy and they even let our wife's ride with us! We were able to sample several bikes with the amazing staff of Albuquerque, Indian dealership! They even took us on a personal tour ride to ensue we were able to experience an additional bike without our limited amount of time! We can't thank the guys of Albuquerque Indian dealership for being so welcoming to a couple guys looking to get the most out of and opportunistic moment with our wife's! We will absolutely be looking at the Indian line for our next bikes!
Date published: 2018-10-27
Rated

4

out of

5
by
Dirk 63
from
Good driving , no shakes , clunky gearbox
Overal good motorcycle, plenty of charisma and identity ; torque , no rattles and shakes Clunky gearbox , frame looks to much old style (i drive BMW Cruiser R1200R ) Every serious motorcycle collector should have an Indian (chief ) in the stable
Date published: 2018-10-24
Rated

5

out of

5
by
Suzycruz
from
Great experience.
Did Daytona demo ride. Really enjoyed it. Just needed a straight run to get thru all the gears. Basically we barely got to 5th gear for a few seconds. Overall great though.
Date published: 2018-10-21
Rated

5

out of

5
by
Chief805
from
Very nice ride
Took one out for a test ride and was very impressed
Date published: 2018-10-21
Rated

5

out of

5
by
Henry702
from
Awesome!
Loved it! Great experience. The chief dark horse was powerful!
Date published: 2018-10-14
Rated

5

out of

5
by
Big Steve MTL
from
Dark look, bold performance
I had the opportunity to test ride this machine at an Indian Test ride. Ride is outstanding and the performance was very surprising. Enjoyed every minute I had in the saddle.
Date published: 2018-10-09
Rated

4

out of

5
by
Downhill
from
Excellent Power
I've owned my bike for a couple years now. The bike is a blast to ride and certainly attracts a lot of attention! I've had a couple minor issues but the dealer bent over backwards to take care of them!
Date published: 2018-09-23
Rated

5

out of

5
by
Ronnie35
from
Very enjoyable!
Felt very comfortable with my height! My feet reached the foot pegs perfectly and the power was more than enough and the Chief Darkhorse was by far my most favorite ride ever! Definitely would be something I wanna buy in the future!
Date published: 2018-09-18
Rated

4

out of

5
by
Slider
from
Great power
Test riding a 1/16 is awesome. I was looking for more of a Touring bike
Date published: 2018-09-15
Rated

5

out of

5
by
D Thomas
from
Awsome
Thinking about purchasing one. After the wife gets hers.
Date published: 2018-08-19
Rated

5

out of

5
by
RATCHET
from
GREAT Ride
I went out on a demo ride while at Sturgis absolutely loved the bike, lots of power nice exhaust tone and it was a pleasure to ride.
Date published: 2018-08-06
Rated

1

out of

5
by
Plaidfinger
from
Going back to Harley - horrible experience
I spent two years waiting to get this Dark Horse. After two weeks of ownership there is more rust on this bike than my H-D had after a full year of riding. The chrome trim was wrinkled the day I bought it and being warrantied along with the gas tank that hadn't stripped bolts holding it on at purchase. Went to install the black fuel cap set today and found a rust patch the size of a quarter under the faux gas cap. Stage 1 flash was done at the dealer and now every time the bike is started, it stumbles gasping for air and stalls. There's rust in about 6 exposed holes on the frame, after a trip to the dealer this week I saw all the new ones on the floor had paint in these holes, mine was bare metal and now fully rusted. The fork tube is also being replaced because it had a 3 inch scratch to bare metal at purchase. By the way this bike was to return to Indian as in 2016 I bought a Dark Horse that poured oil all over my garage the day I got it home. Will never buy another Indian and will surely share this experience. I was so impressed with the price of this bike for what I thought I was getting but I guess you get what you pay for. Now I'll take a loss on this bike....again!!
Date published: 2018-08-06
Rated

5

out of

5
by
Indian 1901 Bobber
from
Indian DH
I bought this bike in June 2015, my first Indian best looking bike they had back then, traded up for a bagger the next year
Date published: 2018-05-16
Rated

5

out of

5
by
Mississippi
from
2016 Indian Dark Horse
On June 19th I will have owned my Dark Horse for 3 years. This motorcycle is by far the best bike I have owned after 40 years of riding. I have rode the Horse across country twice now. I may be retired but my DH never will!
Date published: 2018-04-12
Rated

3

out of

5
by
JD11
from
Maintenance
Bought it late 2017got 500 miles on it all ready had to put spark plugs in it!
Date published: 2018-04-04
Rated

5

out of

5
by
Hoben55
from
My Dream Bike! :))
I have waited 19 years for my kids to grow old enough to finally purchase my Dream Bike. I really love my Chief Dark Horse. Ride is so smooth and comfortable and torque and acceleration are amazing. Once I am riding, I just don't want to stop. I can ride for miles. I am 5'11 and the riding position is just perfect. I can praise enough the team of engineers, designers and painters at the Indian factory. You can tell they all take great pride of their jobs. Thank you all for helping me leaving my dream. Now back on the road ;)
Date published: 2018-03-01
Rated

5

out of

5
by
Beegerply
from
Great ride
I traded a 2013 Suzuki c90t BOSS I thought that it was a great ride until I got my Chief Dark Horse the balance of this bike is incredible, the power and comfort is awesome and is a joy to ride every day. Although I was unable to put a lot of miles one it (bought it in September of 17) I plan to give her a few more days on the road this year.
Date published: 2018-01-19
Rated

5

out of

5
by
Mike 49
from
Fantastic Ride
I bought my Darkhorse this year following two years of enjoying my Scout military tribute. I was itching for a little more comfort and size. I moved up to the Darkhorse which was customized as a Bomber and man do I love this bike! The third week I owned it I was off from Longmeadow Massachusetts on my Bomber to Syracuse NY to the flat track races to watch the wrecking crew. Top finishes all the way! A great weekend on the most comfortable and powerful motorcycle in the world.
Date published: 2018-01-16
Rated

4

out of

5
by
djf83686
from
2016 Dark Horse
Owned for over 2 years, great handling, easy to ride, if they could touch up a few items to handle noises from rattling parts, would be even better.
Date published: 2018-01-16
Rated

5

out of

5
by
J Ski
from
PERFECT
Been riding 55 years, owned a lot of bikes, this is the closest thing to PERFECT. Cams, air filter, and open exhaust added. Great one up and with passenger.
Date published: 2018-01-16
Rated

5

out of

5
by
ToddD
from
Sweet Ride
Looks cool, lots of power, handles like a dream. Wind shield and saddle bags are quick release for extra versatility between highway day trips or just cruising around town.
Date published: 2018-01-16
Rated

5

out of

5
by
NASSIF
from
Great Bike....Unique Styling!
Bought it this last Christmas 2017....and Oh boy, I am in love with it!
Date published: 2018-01-07
Rated

5

out of

5
by
Kiwi Indian
from
Kiwi Indian Dark horse
Bought my Dark Horse in May 2016 and have loved it ever since. Everyone except my wife knew it was on order, unfortunately the day it tuned up at home i was away on business, so i received a message from my surprised wife to say "your new black baby has arrived and is safe n sound", needless to say this was not the first time a new toy had arrived without her knowledge (or will it be the last). To me Indians have always been the pinnacle of motorcycles, and this bike proves it. I have owned so many bikes over the years, but this one is a keeper. These bikes are so cool in every way Have added a pillion seat, pegs, sissy bar (for the wife, she loves it too), Rinehart mufflers (sounds awesome), Wimmer high flow air intake, mapped and tuned and more recently ape hangers. Still to come are stage 2 cams and Freedom Performance dual headers. Indians are well respected here in New Zealand due to our Kiwi legend Burt Munro (the worlds fastest Indian).
Date published: 2017-09-21
Customer Reviews